VietNamNet Bridge – Businesses would have more opportunities to access bank loans at low interest rates if the government had not issued so many bonds, experts believe.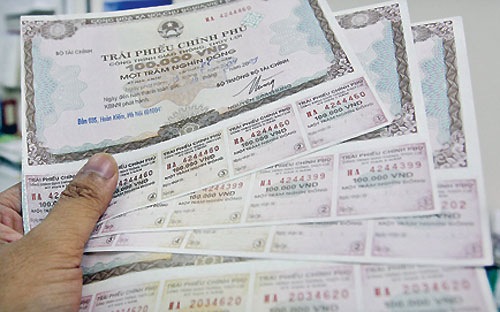 Vietnamese have a saying "areca and rice, you can't have both". The areca nut tree, a drought-resistant plant, will bear good fruit in a dry year. Rice will wither and the rice crop will fail if it cannot get enough water. When farmers harvest bountiful rice crops, they will not have good areca crops, and vice versa.
The saying, according to analysts, reflects what is happening with monetary policy.
The government has issued bonds since the beginning of the year, but businesses complain about the lack of capital.
According to chinhphu.vn, the State Treasury had mobilized VND210.198 trillion worth of capital through bond issuances as of September 25, fulfilling 90.6 percent of the 2014 plan assigned by the Ministry of Finance.
However, analysts said the number of bonds was too high.
With expected capital of VND300 trillion to be mobilized through bond issuances, 2014 will be the year when government borrowing reaches the highest level.
Analysts said there had been no difficulties in mobilizing capital through bond issuances. As commercial banks have abundant capital, they throw the money into government bonds, a safe investment channel.
In other words, the government can easily seek capital to implement its development plans when issuing bonds, while commercial banks can use the optimal investment channel when buying bonds.
However, businesses have suffered from the profusion of bonds because they cannot access bank loans. Under such a scenario, commercial banks, which have injected money into bonds, do not feel compelled to increase lending to businesses.
Dr. Trinh Quang Anh, an independent researcher, commented that the volume of government bonds issued this year has created an obstacle to the possibility of a reduction in interest rates.
Agreeing with Anh, an analyst noted "that fiscal policy has caused major difficulties for monetary policy".
According to the analyst, the government has continually borrowed money from commercial banks and then deposited the money in commercial banks. The state's money in banks leads to an increase in the total money supply (M2).
Meanwhile, the capital that banks use to buy government bonds can actually be the state's money deposited at the banks.
Dr. Phan Van Tinh, in an article published recently, said this was "using chicken fat to fry chicken".
This will make it even more difficult for the State Bank to draw up monetary policies and regulate money-supply sources to curb inflation and stabilize exchange rates.
As a result, monetary policy regulating part of the capital in the national economy has been ineffective, he said.
Regarding the public debt, Deputy Chair of the National Assembly Nguyen Thi Kim Ngan said the debt is now about 64 percent of GDP, and if it reaches 65 per cent, the "red-light" alarm would turn on.
Thanh Mai