VietNamNet Bridge - The ratio of public debt reported by the Government at the upcoming National Assembly (NA) session, which will start next Monday, is "almost" 64% of GDP, according to NA Vice President, Ms. Nguyen Thi Kim Ngan.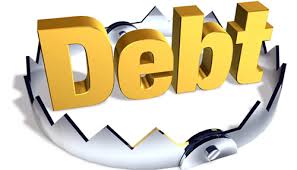 The information was released by Ms. Ngan at a meeting with the European business community in Vietnam on October 13.
Responding to foreign investors' concerns about Vietnam's public debt, Ngan said the NA was very interested in this issue. "We believe public debt must not exceed 65% of GDP. According to the Government's report to the NA this time, public debt is almost 64 per cent," she said.
Earlier, at the meeting of the NA Standing Committee on October 9, the latest figure about public debt was also reported by the government. But the 64% figure is estimated for the end of 2015. The number anticipated for 2014 is 60.3% of GDP. However, the forecast worried many NA deputies and NA Chairman Nguyen Sinh Hung.
In addition to the debt problem, at the meeting on October 13, NA Vice President Ngan also spoke to foreign investors about GDP prospects. Although many organizations have said that Vietnam may not achieve its growth target of 5.8% this year, the Government has decided to keep the target, and the actual growth rate for the January-September period was 5.54%.
During this period, the country's CPI (consumer price index) stood at 2.24% and it is estimated to increase about 4.5-4.7% for the year. This result is much lower than the targeted number of 7%. Another bright spot of the economic picture is the sign of recovery of exports. Vietnam may also have a trade surplus this year.
Disbursement of ODA, Government bonds, and FDI capital all are expected to increase over the same period of last year. In the January-September period this year, $8.7 billion of FDI was disbursed, up $1.1 billion year on year, equivalent to 73% of the yearly plan. The newly-registered capital was more than $11.2 billion, equivalent to 67% over the same period of 2013, reaching 68% of the yearly target.
Talking to foreign investors from Europe, Ngan said with Vietnam, foreign investment is an important channel of technology transfer which can help improve the country's competitiveness at the national level. This year, the NA will amend the Investment Law, the Business Law and some tax laws to build a better business environment for all investors.
Na Son