VietNamNet Bridge – More and more Japanese restaurants have begun to appear in Vietnam, particularly in HCM City, following a stagnant period of economic growth in the country from 2010 to 2012.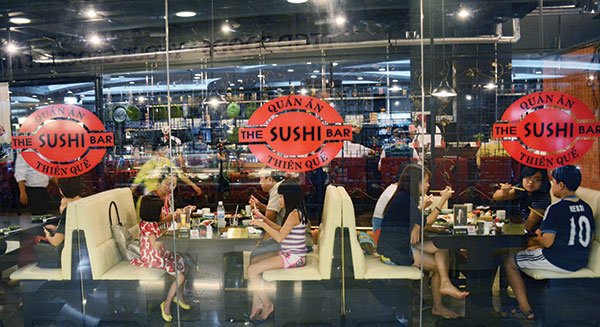 In late August, many HCM City residents were seen standing in long queues in front of Marukame Restaurant in District 1, waiting for their turn to enjoy udon noodles, the specialty of the shop.
This is the second Marukame restaurant in Vietnam. The first, in Aeon Mall Tan Phu, opened in January. The chain of Japanese-style restaurants is run by Lotus Food, the Vietnamese partner in a franchising contract with Toridoll.
Takaya Awata, president of Toridoll, said there were 10 Marukame restaurants in Thailand and six in Indonesia, while the brand has been present in two markets for only one year.
However, the president thinks Marukame chain may develop even more strongly in Vietnam with at least 30 restaurants to be opened in the next five years.
Some months ago, when opening the first shop in Vietnam, Awata said he was not sure if the Japanese brand could succeed in Vietnam, but now he is confident that the country will be one of the key markets.
JETRO, the Japan External Trade Organization, has also noted that the number of Japanese restaurant chains in Vietnam has been increasing.
Marukame Udon, PIZZA 4P'S and Tokyo Town have become popular with Vietnamese and foreigners. Most recently, many Vietnamese have heard about the opening of a series of Japanese-style fried chicken restaurants.
JETRO said that, as the market in Japan had become saturated, restaurant chains were beginning to look overseas to establish new shops.
The first Japanese restaurants turned up in Vietnam in 1990s, and then expanded rapidly in 2006 and 2007. However, the downturn occurred in 2010-2012, as too many of the restaurants targeting Japanese customers opened, leading to stiff competition.
Observers noted that about 300 companies, including 200 invested in by Japanese, have investments in Japanese-style restaurant chains.
JETRO noted that Vietnamese investors kept pouring money into the field, but only a few of them succeeded.
Japanese small- and medium-sized enterprises tend to make foreign direct investment in Vietnam under the names of Vietnamese investors. But big restaurant chains prefer the franchising mode.
Under a Japan-Vietnam investment agreement on November 14, 2003, Japanese investors were allowed to develop restaurants in Vietnam without having to invest in other projects to build, upgrade or buy existing hotels at the same time.
However, many Japanese investors complained that they have to spend too much time on legal procedures, because Vietnamese agencies will only give answers on the granting of licenses after checking an economic-needs test.
Kim Chi