VietNamNet Bridge – The Philippines plans to import 1.7 million tons of rice this year and even more next year, giving Vietnamese exporters a chance to bid on big contracts, the Vietnam New Agency quoted Francis Pangilinan, advisor to President Benigno Aquino, as saying.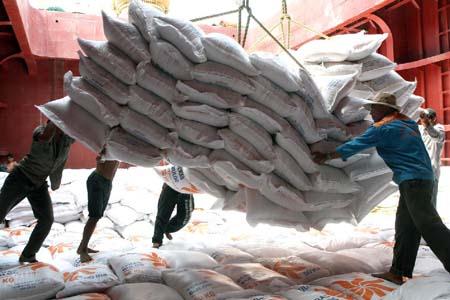 The Philippines last year said they would begin a self-sufficiency drive to produce rice at home, but fllods and typhoons have hindered that effort.
The Philippines, during the 2008 global food crisis, imported 2.34 million tons of rice, a record which has yet to be broken by another country.
The rice supply decreased sharply in late 2013, forcing the government to import more rice.
This year, between June and October, the rice price went up by 20 percent in the months. As a result, the government decided to subsidize rice to stabilize price.s
About 20 percent of the rice now available in the Philippines is subsidized by the government, while self-sufficiency remains a top priority for Manila.
Prior to that, the Philippines vowed to begin the self-sufficiency policy in 2013. However, the plan has been delayed.
Vietnamese agricultural experts commented that Filipino high demand and short domestic supply would give Vietnam more opportunities to sell rice to the market.
However, an analyst, who declined to be named, said he was not sure if Vietnam could grab the opportunities because of the low-pricing policy pursued by Vietnamese exporters.
In August 2014, Vietnam did not win the bid to provide 500,000 tons of 25 percent broken long-grain white rice to the Philippines, even though Vinafood 1 and Vinafood 2, the two most powerful rice export corporations offered low prices.
The Vietnamese companies then offered an export price of $460 per ton, the lowest level among the countries attending the bid, but they still failed to obtain the export contract. The price was still higher than the ceiling price set by a Philippines government agency at $456.6 per ton.
Dr. Vo Tong Xuan, the most respected rice expert in Vietnam, believes that the Filipino government set low ceiling prices because it realized that Vietnamese exporters always tried to sell rice at low prices.
"They know that Vietnamese exporters try to win the bids at any cost by offering a bid that is $28-32 lower per ton lower than other exporters. Therefore, they set up a very low ceiling price," he noted.
"If they continue to sell rice cheaply, Vietnamese exporters may face anti-dumping lawsuits in the US, and Vietnamese farmers could incur losses," Xuan said.
Dat Viet