VietNamNet Bridge – Some Japanese businesses are considering leaving Vietnam for Thailand once the tariffs among ASEAN countries is cut to zero percent within the framework of the ASEAN Free Trade Agreement (AFTA), said Sakurada Yoichi, a high- ranking researcher at the Japanese Mitsubishi Institute.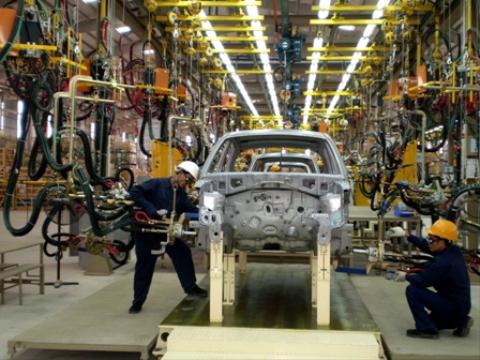 Speaking last week at a working session with Hansiba, the Hanoi association of enterprises in the support industry, he said his associates, together with Foval Company, had been authorized by JICA (Japan International Cooperation Agency) to conduct a survey and build a database on six key support industries in Vietnam.
These include agricultural machinery, food processing, electronics manufacturing, automobile and automobile part manufacturing, shipbuilding, environment and energy savings.
The survey will be conducted in Hanoi, HCM City and the neighboring provinces of Vinh Phuc, Hai Phong, Dong Nai and Binh Duong.
The researchers will draw up a list of 500 leading Vietnamese enterprises that want to cooperate with Japanese manufacturers.
They also plan to survey investment demand of 20 Japanese enterprises now operating in Vietnam.
Yoichi warned that some Japanese enterprises were considering leaving Vietnam for Thailand as they heard that the tariffs among ASEAN countries will be cut to zero percent.
He said that Vietnam needs to speed up development of its support industries, or it will lose opportunities to attract investors.
Mazda and Ford, two major automobile manufacturers, reportedly brought investment projects worth $700 million – 1 billion to neighboring countries instead of to Vietnam because they could not find Vietnamese enterprises that could supply simple car parts, such as screws, electrical wires or plastics.
A report from the Vietnam Chamber of Commerce and Industry (VCCI) shows that parts have been supplied to manufacturers mostly by Japanese, South Korean and Taiwanese invested enterprises.
According to Jetro (Japan External Trade Organization), Japanese companies now can buy 28 percent of support parts in Vietnam. Meanwhile, the figures are higher in other countries, 43 percent in Indonesia, 53 percent in Thailand and 61 percent in China.
Toyota attended the fifth Vietnam-Japan exhibition on support industries organized in Hanoi in early September 2013, trying to look for Vietnamese enterprises which could provide car parts and accessories, but they were unsuccessful.
A report from the Ministry of Industry and Trade showed that 210 Vietnamese enterprises make parts for automobile manufacturers. However, they can only make simple parts such as glass, batteries and some plastic products.
Samsung, the electronics group from South Korea, announced several days ago that it was looking for suppliers of 170 parts for its Galaxy S4 smartphone model and tablets.
However, Nguyen Duong Hieu, president of Lidovit, a company in Binh Chieu Industrial Zone in HCM City, admitted that the requirements set by Samsung are "very difficult for Vietnamese enterprises to satisfy".
Tran Thuy