VietNamNet Bridge – More and more Thai goods will enter the Vietnamese market through modern distribution channels, but will not kill local production, as many people fear, experts say.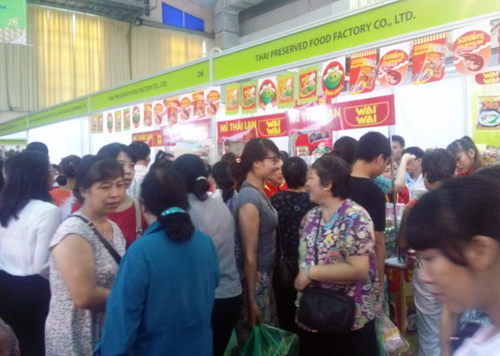 Hoang Mai Huong and her family, for example, favor made-in-Thailand products, from tea cups to clothes, from electric goods to soaps.
Huong and many other Vietnamese began using Thai goods in the 1990s when Thai products were brought to Vietnam in small quantities by small merchants over border gates.
Now they have more opportunities to buy Thai products as Vietnam-Thailand trade has improved significantly in recent years.
The Thai group BJC recently bought Metro Cash & Carry, which will allow it to penetrate the local market more deeply.
In June 2013, BJC bought 42 Family Mart shops in Vietnam after the Japanese partner withdrew from the joint venture it had set up with Phu Thai Group.
Earlier this year, Central, the leading Thai retail group, opened Robins, a shopping mall in Hanoi. It is expected to open a second one in November.
In addition, more Thai goods will be carried by distribution chains owned by Thai investors.
In recent years, Thai products have been flooding shopping malls, supermarkets and traditional markets in Vietnam. Many shops specializing in distributing Thai goods have been set up in big cities.
Vu Vinh Phu, chair of the Hanoi Supermarket Association, noted that Thai goods have been present in Vietnam over the last 10 years through different channels, including cross-border exports, tourism and trade fairs.
And in the future, Thai goods would take root in Vietnam with the existence of Thai-owned retail chains.
"There are at least two to three Thai-made items in every Vietnamese family," Phu said, showing the high popularity of Thai products to Vietnamese.
"More and more Thai products will land in Vietnam, which will badly affect domestic production," he warned.
"Keep calm," experts say
While some analysts are worried about the flood of Thai goods in the domestic market, others say they do not think Thai goods will be a big threat.
The director of a big supermarket chain in HCM City said that though there would be more Thai products in Vietnam, the volume of goods will not be big enough to cause difficulties for Vietnamese manufacturers.
"The Thai products most favored by Vietnamese are only sweets and some consumer goods," he noted.
Meanwhile, Deputy Minister of Industry and Trade Ho Thi Kim Thoa has reassured the public, saying that all foreign retailers must abide by Vietnamese laws. They must promise that 80-90 percent of the goods sold at their chains are made in Vietnam.
An analyst noted that BJC's strong point lies in its small-scale production and distribution (convenience stores, for example). Therefore, he does not think it will be able to get big overnight in the wholesale sector.
NLD