VietNamNet Bridge – Many Singaporean businesspeople have invested in big projects in Vietnam in many different business fields, especially real estate.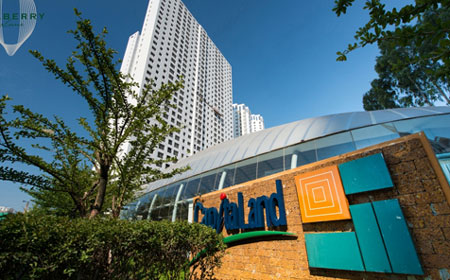 The Government of Singapore (GIC) Fund on August 14 unexpectedly announced it had become a big shareholder of Vinasun (VNS) after wrapping up a deal to buy 4.5 million VNS shares, or 7.96 percent of chartered capital.
With the current price of VND45,000 per share, the Singaporean fund has poured VND200 billion into Vietnam's largest taxi firm.
This is the second Singaporean-sourced capital investment deal in VNS. Prior to that, another fund, which also has relations to the Singaporean government, Teal Two Partners Ltd, bought 7.93 million VNS shares, or 14 percent of the firm's chartered capital.
Teal Two Partners Ltd is now the largest shareholder of PAN Pacific, holding 8.1 million shares, or 20 percent of PAN Pacific's chartered capital. Meanwhile, GIC holds 4.7 percent of PAN's shares.
Analysts believe that the Singaporean cash flow will continue to head toward Vietnam, targeting the real estate, industry, hotels, banks, logistics and retail sectors.
In mid-2013, two multi-million dollar investment deals made by Richard Chandler, the billionaire who was born and grew up in Singapore.
He reportedly spent $99 million to buy 80 percent of stakes of Hoan My Medical Group and 58.7 million Masan (MSN) shares from six domestic investors.
If counting the 20 million MSN shares bought in late 2010, the billionaire now holds up to 78.7 million MSN shares, or 10.7 percent.
He is the biggest foreign shareholder of Vietnam's largest consumer goods manufacturing group. The share value is estimated at $330 million.
Many other major Singaporean investors have become involved in big deals in Vietnam.
These include CapitalLand, the developer of Mulberry Lane in Hanoi, Vista in HCM City, and Somerset Grand Hanoi, Somerset Hoa Binh Hanoi, Somerset West Lake Hanoi, Somerset Chancellor Court HCM City, Somerset HHCM City and Somerset Vista HCM City.
The Singaporean real estate giant Keppel Land is well known in Vietnam for many projects such as Saigon Centre, Sedona Suites Royal Park - Hanoi, Villa Rivera, and The Estella.
In addition, the Singaporean banker UOB (United Overseas Bank) holds 20 percent of Southern Bank's stakes.
Temasek, the Singapore government corporation, holds 3.6 percent of FPT stakes, Vietnam's largest information technology group, and 20 percent of Mekong Bank's stakes.
Analysts commented that Vietnam is one of the most attractive investment destinations for Singaporean investors. Vietnam is suitable to both the investors who plan long-term business in Vietnam and those who want to make profits from short-term projects.
In September 2013, the Orchid Fund withdrew capital from FPT just two years after it injected money into the technology group. The sale of the 10 percent of FPT stakes brought VND1.3 trillion, a satisfactory profit of 20-30 percent to the investment fund.
Manh Ha