VietNamNet Bridge – Vietnam has become one of the hottest luxury car markets targeted by car manufacturers, with luxury car manufacturers choosing some of their most luxurious and expensive car models in Vietnam.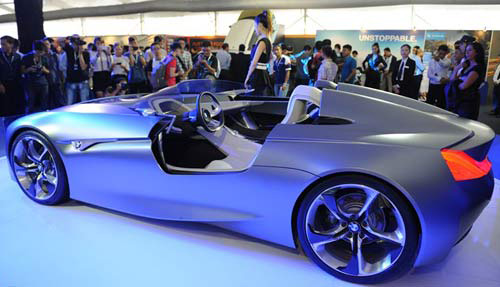 Mercedes Benz and BMW, both from Germany, have recently introduced luxury models with an aggressive marketing campaign.
BMW organized an exhibition in Hanoi, where 25 luxury car models, worth VND80 billion in total, were displayed.
Besides BMW's Vision ConnectedDrive concept, the manufacturer also exhibited its most expensive cars worth several billions of dong.
Mercedes Benz also organized an exhibition where it showed 18 luxury models worth a total of VND60 billion in Hanoi.
It was not by chance that both giants chose Hanoi for their exhibitions. Analysts say that while HCM City is considered the biggest commercial hub, Hanoi and the northern part of the country are the biggest luxury car markets, which buy 40 percent of luxury cars.
The three major players in the luxury car market segment are all from Germany – Mercedes Benz, BMW and Audi. Their products have been dominating the market segment with a wide range of products and large distribution networks.
Contrary to all predictions that the economic downturn would cause car demand in Vietnam decrease, the three "big guys" still have reported a steady increase in the sales of luxury models.
Though car prices in Vietnam are triple the cost in other countries, and though Vietnam is still a small market if compared with others, and the economy is still not strong, sales are still good for the three manufacturers.
Nguyen Dang Thao, marketing director of Euro Auto, the distributor of BMW, said Euro Auto hoped to gain 15 percent growth rate this year, but the real growth rate has been 30 percent, with 10,000 cars sold in the last seven months.
Mercedes Benz Vietnam sold 1,106 luxury cars, witnessing 70 percent growth rate in the first half of the year, the most successful first half in the last 19 years. E-Class, S-Class, G-Class have been cited as the best-selling models.
Audi, which gained 40 percent growth in the first half of 2014, has said that Vietnam is one of 40 markets worldwide with the highest number of sales of luxury car brands.
The high demand in Vietnam might be a surprise to the car manufacturers. The four-day Mercedes Benz exhibition attracted 26,000 visitors, while the BMW exhibition attracted 30,000 visitors. Orders were placed at the exhibition for the most luxurious models, including BMW M6 Grand Coupe, which sold at the manufacturers' suggested retail price of VND6.2 billion.
Analysts noted that the positions of the three auto manufacturers became more vulnerable after Lexus and Infiniti arrived in Vietnam.
Tran Thuy