VietNamNet Bridge – The volume of products made in Thailand that are entering the Vietnamese market is expected to increase as Thai retailers expand their presence in the country.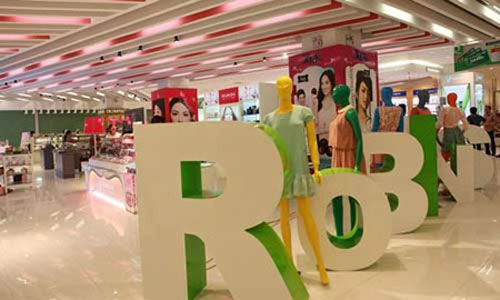 The Central Group, one of the largest and most diversified retail groups in Thailand, open its first Robins shopping center in Ha Noi last April this year.— Photo webtretho
Vu Vinh Phu, Chairman of the Ha Noi Supermarket Association, gave this warning even as he told Vnexpress of a number of concerns about recent deals that enable Thai companies to further penetrate the domestic retail market.
The deals include Thai company Berli Jucker's purchase of Metro Cash & Carry Viet Nam for US$876 million earlier this month, and the opening by Thai Central Retail Corporation of the 10,000-square meter Robins shopping center in the capital city last April. Vietnamplus reported that, Thai Central Retail aimed to become one of Viet Nam's most popular retailers.
"Thai companies have nurtured the ambition of competing with Chinese companies in the Southeast Asian market for quite some time now," a representative of a Thai company told Vnexpress at the Thailand Trade Expo here last week.
"Viet Nam, a highly-populated market, is a key part of the Thai chain that is penetrating the regional market," said the representative, in response to questions on the recent Thai expansion in Viet Nam.
"A complete market trajectory through shopping malls and supermarkets will help them achieve the target, especially in 2015, when the ASEAN Economic Community is set to launch," the representative added.
Nearly 150 leading Thai companies displayed a variety of products at the trade expo, including food and beverages, health and beauty products, household products and electrical appliances. Also on display were jewellery, textiles and garments and decorative items, as well as auto spare parts, bicycles and accessories.
Hoang Ha, a resident of the capital city, told Viet Nam News that members of her family have favoured Thai consumer products since the 1990s, when most of the products were hand-carried.
Twenty years later, patronage of Thai products by Vietnamese consumers has become a widespread habit as shown by the crowd that showed up at the expo.
"Thai goods are indeed of high quality, durable, well-designed and quite affordable," said Mai Huong, a young mother who bought several items for her baby and ingredients for cooking at the expo.
Thu Trang, another loyal consumer of Thai products, told Viet Nam News she has been frequently attending Thai trade expos.
"I'm always able to find something good to buy when I visit. Good quality and good design are coupled with good pricing. What more should you expect?" Trang asked.
The question remains: what should Vietnamese companies do to retain their hold over the domestic retail market?
"All companies must follow market rules. If Thai products are good, they will be imported for re-sale in Viet Nam," an official of the Hoang Gia Trade Export Import Company told Vnexpress.
Experts suggest that Vietnamese companies improve quality control, as well as management capacity for manufacturing and distributing.
Than Duc Thien, Deputy Director of Garment 10 JSC (Garco 10), said his company planned to focus on quality, design, marketing and branding activities so as to compete effectively with foreign rivals.
The Viet Nam National Textile and Garment Group (Vinatex) also announced that it has restructured its domestic business strategy to further invest in domestic production by expanding its sales and distribution units and developing the fashion industry.
Vinatex is expanding its distribution chain by setting up 50 Vinatexmart outlets nationwide and seeking private distributors who could link them to more consumers.
Nguyen Trong Tuan, Deputy General Director of Ocean Retail and Real Estate Mangement Company, said that in the competition, Vietnamese producers have to distinguish their brands, define target consumers and minimize dependence on promotion and sales.
Experts also suggest that Vietnamese producers and distributors meet and draw up strategies to defend themselves against foreign billionnaire retailers.
VNS/VNN