VietNamNet Bridge – While Cat Lai Port in HCM City is overloaded with goods and containers, other ports in the southern region have little business.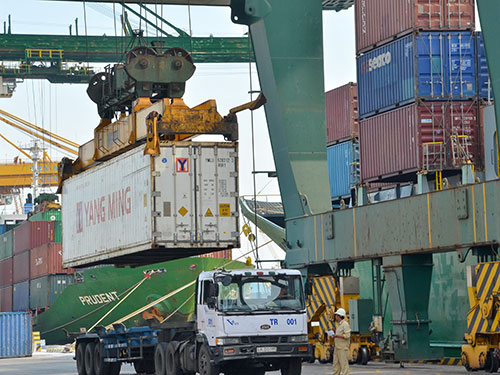 Of 50 seaports, big and small, in HCM City and Ba Ria – Vung Tau Province, only a few are capable of receiving big-tonnage container ships, while the others can only serve as inland container depots (ICD) that help importers and exporters handle their shipments near their location.
One report shows that 85 percent of imports and exports go through Cat Lai Port, while the other ports share the remaining 15 percent of market share.
Phan Trong Lam, deputy general director of VICT Port in district 7, which accounts for 7 percent of the southern market share, complained that the profits are modest, even though VICT's capacity has increased, having reached 570,000 TEU (the designed capacity is 800,000 TEU).
"The unsatisfactory profits have turned my hair white," said Lam.
Lam said that 40 percent of the goods going through VICT are domestic goods and goods in transit carried by lighters.
"We have to take this job to earn our living," he explained. "Since the day construction began on the Phu My Bridge in 2007, big ships have not been able to dock at VICT. As a result, the volume of imports and exports going through the port has dropped dramatically."
The Saigon – Hiep Phuoc Port proves is the emptiest one in the region. Its developer, the Saigon – Hiep Phuoc JSC, spent VND2.73 trillion to build the port, which can receive 8 million tons of goods a year. However, the port is now experiencing a "living death" because there is not a road into the port yet.
SPCT Port, which was put into operation in October 2009 with the designed capacity of 1 million TEU a year, is running at a low capacity of 35 percent only.
However, SPCT's deputy general director Nguyen Ngoc Quynh said she hopes the situation would improve in the time to come.
"The Soai Rap passage dredging project finished in June, and SPCT is now the deepest water port in HCM City. With the new passage, ships' trips will be shortened by two hours, thus helping shipowners cut down expenses," she explained.
Many ports, few goods
While the number of ports put into operation is on the rise, the volume of imports and exports going through the ports is on the decrease.
There are 25 operational ports in the Cai Mep – Thi Vai port complex, including 12 general and 13 container ports. However, only a few of them run at full capacity.
Analysts warned that port redundancy could become even more serious with 26 more ports to be put into operation by 2020, as planned by the Ministry of Transport.
While there are many ports in the area, there are not many import-export companies, economic zones and industrial zones. This has made the ports "hungry for goods". Only 7-10 percent of importers and exporters transport their goods through Cai Mep.
NLD