VietNamNet Bridge – The minimum salary by region will be revised based on the country's consumer price index (CPI) from 2018 as planned, Deputy Minister of Labor, War Invalids and Social Affairs Pham Minh Huan said.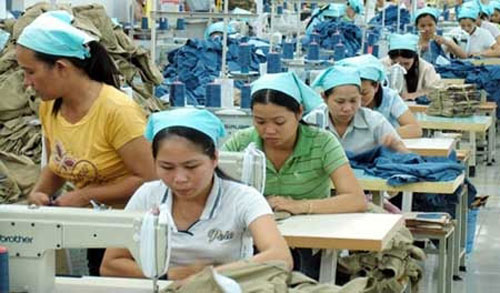 Illustrative image. – File photo 
Huan, who is also chairman of the National Wage Council, told the Daily that the current minimum wage adjustments are made based on the factors related to CPI, gross domestic product (GDP) growth, overall wage increases and subsistent needs of workers.
As for CPI, Huan said the ministry often focuses on price changes of necessities and services like foods, healthcare and transport when proposing wage adjustments in order to meet the basic needs of workers.
Despite careful consideration, there remains a big gap between the minimum wage and the actual income and spending of workers. Therefore, the ministry has to consider pushing up the minimum wage every year by 15-17%.
However, when the minimum salary is almost equivalent to the minimum living standards and when economic situations are stable, the annual wage will change depending on CPI.
Last week, the council agreed on a proposal by representatives of different agencies to revise up the 2015 minimum wage by region by an average of 15.1%. If the Government approves this percentage, employees in Zone 1 would get VND3.1 million per month, up VND400,000, while the respective amounts in zones 2, 3 and 4 would rise by VND350,000 to VND2.75 million, VND320,000 to VND2.42 million, and VND300,000 to VND2.2 million.
Huan said if the Government approves the suggested minimum wage increase for next year, the new wage levels can meet only 75% of the essential daily needs of vulnerable workers.
Over the past years, there have been debates between representatives of employees and employers over how much the minimum wage should rise, but the minimum living criteria used to calculate wage increases are not clear. Moreover, there is no official report on how much enterprises have to spend on their minimum wage revision a year.
According to the labor union chief of a big garment company, the minimum wage hike only benefits new workers as employers have to pay them an amount equivalent to that for trained workers. Besides, the social insurance that employers pay is higher and enterprises may have to revise down the actual incomes for their existing workers in accordance with the new minimum wage levels.
"Therefore, most workers do not care about the minimum wage increase," he said.
At many enterprises, the minimum wage is now simply a basis for social insurance payment, as in Zone 1, few enterprises pay an employee VND3.1 million a month. A survey of the labor ministry released late last year showed that the average wage of 2.5 million workers surveyed was up to VND5 million a month.
So those in dire need of the minimum wage rises are vulnerable workers, though the number is small, and social insurance agencies as many enterprises pay the insurance based on the regional minimum wage levels.
Years ago when the minimum wage in Zone 1 was lower than VND2 million a month, many enterprises proposed eliminating this regulation as foreign clients supposed with such low wage, there was no reason for them to pay high outsourcing fees.
Nevertheless, enterprises no longer request removal of the regulation as without the minimum wage, they will have to pay social insurance based on their taxable incomes. If so, operating costs of enterprises would be much higher than currently.
SGT/VNN