VietNamNet Bridge – This year's minimum-wage hike has met opposition from many in the business community.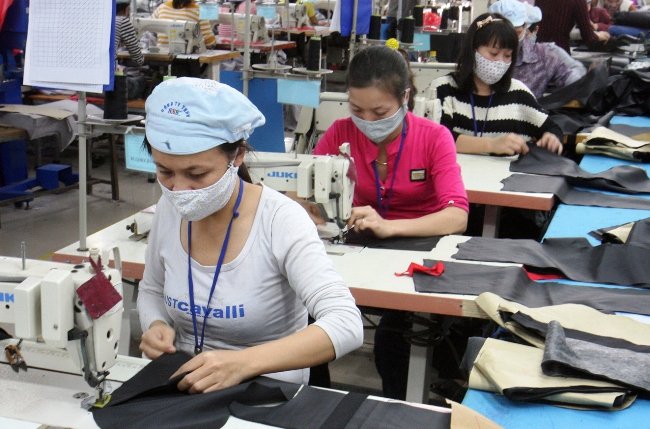 Nguyen Viet Khoa, director of the Tan Vinh Tien Production Trade & Service Company in HCM City, said that once the minimum wage is increased, the social insurance, unemployment insurance and healthcare insurance premiums businesses have to pay for workers are higher, which burdens businesses. The premiums are calculated based on minimum wages.
A survey by the Vietnam Labor Union found that the average income of Vietnamese workers was VND4 million in 2013. Workers in Zone 4, which had the lowest income level, received VND2.2 million a month. The levels were much higher than the minimum wages the government set for 2013 and 2014.
Workers are almost always receiving a higher wage than the minimum wage stipulated by the government. Still, businesses do not like the minimum wage law.
An analyst commented that the biggest sufferers from the minimum wage policy are labor-intensive enterprises.
"Since the production equipment is out of date and the productivity is low, businesses have to use a large workforce for their production lines. Therefore, when the minimum wages increase, the production costs are higher," he explained.
Meanwhile, the analyst said the minimum wage policy has not been strictly pursued by the household-run business sector.
According to the General Statistics Office, workers in foreign invested enterprises, state-owned enterprises and private enterprises accounted for 3.3 percent, 10.4 percent and 8.5 percent, respectively, of the total labor workforce in 2012. Meanwhile, the laborers working for household-run business establishments accounted for 78 percent.
In other words, of the total 51.5 million laborers, 40 million work for household-run business establishments, which hire workers on the basis of verbal agreement and do not have account books. The owners of the business establishments do not think they have to pursue the minimum wage policy.
As such, the analyst said, the minimum wage policy nearly has no validity at the establishments. The wages paid to workers are defined upon the negotiations between the employers and workers.
The analyst commented that it is not necessary to waste time to discuss a policy which only covers only a small percentage of workers of the official labor market.
While the minimum wage policy does not have much significance in reality, any adjustment of the policy would indirectly have a negative impact in the society, so it is not welcomed by employers and employees.
Employers fear that production costs would increase, while employees fear that the prices of goods and services will increase, which lowers their real income.
When the minimum wage is increased, business owners try to cut their workforce or raise selling prices, which can lead to an increase in inflation.
Kim Chi