VietNamNet Bridge – Many small-and medium-sized garment companies in HCM City reportedly have received only half to 60 percent of the orders they expected this year.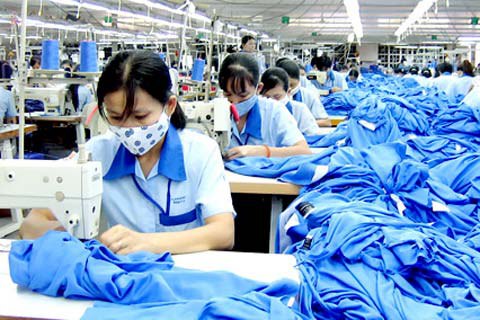 Very few companies have orders for the fourth quarter of the year.
The chair of the HCM City Textile, Garment, Embroidery and Knitting Association, Pham Xuan Hong, said many member companies of the association still needed orders.
"By this time last year, 50-60 percent of enterprises had fulfilled 80 to 90 percent of their production plans. The figure is only 25-30 percent this year," Hong said.
Hong noted that foreign garment importers are placing more orders with Cambodia, Bangladesh and Myanmar producers instead of Vietnam because the production costs in Vietnam are 50 percent higher than in those countries.
However, importers still seek Vietnamese producers for high-value contracts because Vietnamese can better satisfy their technical demands. However, high-value contracts do not bring high profits to Vietnamese companies as they have to pay high costs for input materials.
The director of a big garment company said that the number of orders his company has for the second half of the year was 30 percent lower than that of the same period last year.
"The number of orders has been decreasing, especially from Europe. The profits we have received in recent months were just to pay workers. I think the lateness in the negotiations for TPP (Trans Pacific Partnership Agreement) was also a reason behind the decrease in the number of orders," he said.
Pham Xuan Trang, director of Dai Tay Duong Company, also said the number of orders for the third and fourth quarters had decreased, and as a result, considerable profit reductions in the last months of the year are expected.
Le Quang Hung, chair of Garmex Saigon, said the number of orders in the first half of the year increased by 20 percent over the same period last year, and the company has enough jobs until May 2015. It has had to organize extra working shifts to fulfill the orders.
"We specialize in making jackets and sportswear, therefore, it is easier for us to seek orders," he said.
An analyst commented that Vietnam remains a major garment production base, but importers now tend to hire Vietnamese producers for high-value contracts.
Dau tu chung khoan has reported that a British importer has asked the Vietnam Embassy in the UK to help find Vietnamese producers who can supply 200,000 suits of western clothes a month.
Ronhill, also a company from the UK, is seeking Vietnamese enterprises that can supply sportswear to be retailed in European markets.
Kim Chi