VietNamNet Bridge – The South Korean electronics group Samsung has agreed to cooperate with the Ministry of Planning and Investment, Foreign Investment Agency and the Vietnam Association of Mechanical Industry (VAMI) to develop domestic support industries.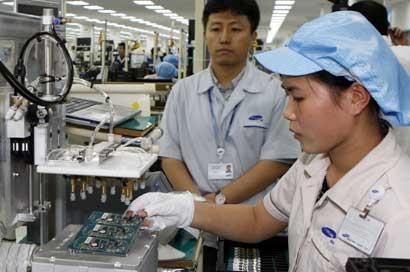 "The cooperation model for Samsung and Vietnamese enterprises is being built up. If it succeeds, it will open a new way out for domestic support industries," said Dr. Nguyen Mai, Chair of the Vietnam Association of Foreign Invested Enterprises (VAFIE) after hearing that Samsung has officially agreed on the cooperation program.
Vietnam began thinking of developing support industries 15 years ago. But this is the first time it has implemented a big and carefully designed program.
However, despite the involvement of Samsung, experts are still doubtful about the feasibility of the cooperation program.
Unlike textiles or garments, manufacturing smartphones is considered a "high technology industry", which is so "mysterious" to Vietnamese enterprises that, as said by Mai, "no Vietnamese enterprise knows what a smartphone comprises".
Seven Vietnamese enterprises have joined Samsung's production chain, but they only make packs and simple parts for smartphones. Therefore, no one can say for sure how far the cooperation program can go and if the cooperation model will succeed.
For this reason, an official of the Ministry of Industry and Trade said that Vietnam needs to follow a new way to implement the cooperation program, rather than the current way which has not brought the desired effects.
He said Vietnamese agencies and Samsung have agreed to a method under which Samsung would first speak out what it needs, and then Vietnam would introduce the enterprises which can satisfy the requirements.
According to the official, Vietnamese mechanical engineering and electronics enterprises have expressed their wishes to join the program and become links in Samsung's production chain.
The two sides have agreed that in the immediate time, workshops will be organized, in which Samsung's specialists will make themselves clear about what Samsung requires and what Vietnamese enterprises should do to become its part suppliers.
Samsung's decision to locate in VN
Samsung has eight operational factories in the world, including two in Vietnam which make 200 million smartphone products every year out of the 400 million products made by Samsung worldwide.
He said Samsung has three reasons to decide to increase its investments in Vietnam. First, it believes the labor force in Vietnam is qualified enough to satisfy its high requirements. Second, Vietnam has a good business environment. And third, it can see a brighter future for Vietnam after the government of Vietnam carries out a series of reforms.
"These are also the reasons for Samsung to decide not only to make smartphones, but also produce high-resolution super flat screens, build ships, develop thermal power plants and build the Long Thanh international airport," Mai said.
He emphasized that the cooperation program with Samsung is a golden opportunity for Vietnam to expand its support industries, which the country has wanted to do for the last 15 years.
Dat Viet