VietNamNet Bridge – Cargo traffic at the Hai Phong port complex, the biggest port in the north, has been seriously congested since the day a regulation on verifying vehicles' loading capacity took effect on April 1.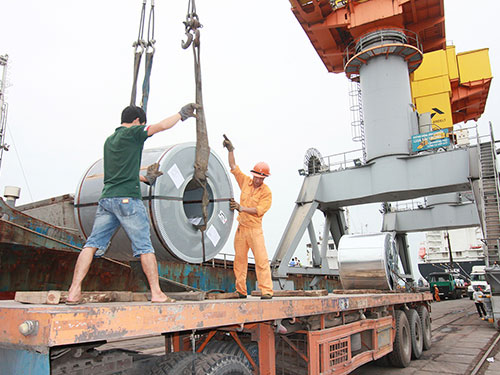 A report from the Hai Phong port's customs agency showed that about 8,000 containers of goods have been left at the ports in Hai Phong. There are also numerous bulk cargo items that cannot be carried to destination points because they are oversized or overloaded.
Approximately 120,000 tons of cargo are stuck at the Hoang Dieu Port Handling Enterprise. At Tan Cang Enterprise, there are 12,000-14,000 TEU of uncleared goods, while the capacity is 8,000-9,000 TEU (twenty foot equivalent unit).
A senior executive of the Dinh Vu Port said the prolonged deadlock has made it unable to receive new vessels. He complained that the cargo traffic had slowed down since May, when the new regulation took effect.
Under the new regulation, all vehicles must have goods weighed right at the port, and the goods can be cleared only if officers certify that the loading capacity does not exceed the allowed capacity listed on the driving license.
Nguyen Van Minh, a forwarder, noted that both the port developers and enterprises are meeting big difficulties because of the new regulation.
"Container goods are all under seal. Therefore, customs officers cannot remove the seals to reduce the loading capacity. As a result, the goods have to be left at ports," he explained.
Nguyen Van Quang, deputy director of the Hai Phong-based Nhat Minh Company Ltd, complained that his imports – 300 tons of steel – have not been completely cleared at the Hoang Dieu port since mid-May.
"We have requested transport firms to carry import steel as quickly as they can, but only 50 percent of the import volume has been cleared," he complained.
"The steel rolls have a tonnage of 28 tons, while the vehicle capacity was 27 tons. But we could not cut the rolls of steel," he explained.
Hai Phong City's authorities have decided to set up a taskforce to steer the clearance of the cargo stuck at the ports.
The goods deadlock is also occurring at the Cat Lai port in HCM City in the south.
In an effort to ease the deadlock, Tan Cang Sai Gon Corporation, the developer of the Cat Lai Port, has informed clients and shipping agents that it would stop receiving container goods from August 1.
The port developer has also raised the port service fees by 30 percent on average to urge owners to clear their goods soon.
About 70,000 TEU of goods go through the Cat Lai port every week, which includes 30,000 TEU of imports.
Ngo Minh Thuan, Deputy CEO of Tan Cang Sai Gon, said the amount of stuck goods has increased by 30 percent since the new regulation on verifying loading capacity took effect.
NLD