VietNamNet Bridge – The two- to four-star hotel market segment, with an average occupancy rate of 70 percent, is being eyed by many wealthy investors.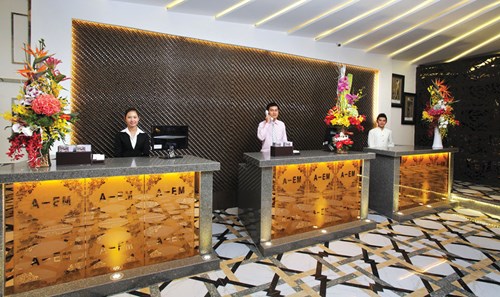 Dang Van Thanh, one of the richest Vietnamese stock millionaires, who appeared in public recently after a long absence, said he had invested huge sums of capital in his sugar and tourism projects.
In April 2014, Thanh turned up at an important event, where Thanh Thanh Cong Investment JSC signed a cooperation agreement with the Tay Nam Trade & Export Company on the development of a 4- to 5-star hotel chain in Da Lat, Nha Trang and HCM City.
Later, Thanh, who is now Chair of Thanh Thanh Cong Group, said in Doanh Nhan Sai Gon that in the immediate future, Thanh Thanh Cong will focus on developing hotels in the south, including  3 to 4-star chains bearing the Golf and Michelia brands.
On June 23, the Golf Vietnam Tourism JSC (VNG), organized an extraordinary shareholders' meeting to find more members of the board of directors. The changes in the structure of the board of directors were made after Thanh Thanh Cong wrapped up a deal to purchase 6 million VNG stakes to become the biggest shareholder with 49 percent of stakes.
With the deal, Thanh Thanh Cong can easily expand its market share in the hotel market. VNG is now managing the Golf hotel chain comprising two to four-star hotels (Vinagolf's members) in Da Lat City (114 rooms from two hotels), Can Tho (one 4-star hotel with 107 rooms), Hoi An (one 3-star hotel with 69 rooms).
It has taken over the 4-star Golf Angkor in Siem Reap, Cambodia, since March 2011.
A report of Thanh Thanh Cong Group, which invests money in many business fields, including real estate, sugar, tourism and financial investments, said that tourism services make up 10 percent of the group's total revenue. Its revenue and profit totalled VND12.6 trillion and VND800 billion, respectively, in 2013.
Other big players
Besides Dang Van Thanh, many other well-known names have appeared in the 2-4-star hotel market.
Over the last three years, hoteliers have witnessed the rapid expansion of the A&EM Hotel chain in HCM City and the strong development of the brand. The chain is managed by A&EM single-member company limited with investors from Hai Phong City.
In 2004, the company put its first hotel into operation. Meanwhile, by 2011, it has 10 hotels in Hanoi and HCM City, mostly 2-3-star hotels, with 600 rooms total.
Nguyen Van Hai, General Director of A&EM, said injecting money in 2-3-star hotels is a reasonable choice, because the hotels of this type not only can meet the demand of foreign travelers, but also of domestic tourists.
Ocean Group of Ha Van Tham, also one of the most influential businessmen in Vietnam, is also planning to develop a 4-star hotel chain (StarCity) after making heavy investments to develop the 5-star Sunrise brand.
Nguyen Duc Ngoc, Business and Marketing Director of TD Corporation, said investors now tend to develop hotels with reasonable investment rates instead of luxurious hotels.
In the current global economic crisis, business people and travelers tend to choose less luxurious hotels to book.
Though the 2-4-star hotel market is very competitive, hoteliers still can make stable profits, he said.
DNSG