VietNamNet Bridge – Vietnamese textile and garment companies have been pursuing the "China+1" policy in an effort to escape reliance on China as its biggest material supplier.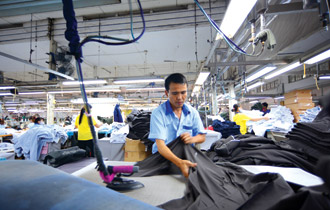 "China+1" is the strategy followed by Japanese investors over the last many years as well.
Vietnamese enterprises which want to take initiative in the textile and garment material supply may want to follow Japan's lead.
At least five major players in the textile and garment sector, Thanh Cong, Garmex Saigon, Gia Dinh, Saigon Garment 2 and Saigon Garment 3, have vowed to "take actions" to escape the reliance on China.
Thanh Cong Textile & Garment Company is one of a few companies that will be able to enjoy preferential export tariffs of zero percent when Vietnam becomes a member of the Trans Pacific Partnership Agreement (TPP).
The agreement, with the "yarn forward" principle, will only grant preferential tariffs to those companies which make products with materials from TPP-member countries.
Thanh Cong in Vietnam is known as one of two companies that have closed-end production lines. The only material it has to import is cotton to make fibre.
Fifty percent of the cotton needed for Thanh Cong is imported from the US, while the remaining comes from other TPP-member countries.
"We are sure we can take the initiative in the material supply," said Phan Thi Hue, chair of Thanh Cong.
The other four, Gia Dinh, Saigon 2, Saigon 3 and Garmex Saigon, still have been importing materials in large quantities from China.
However, they have been trying to cut down the percentage of China-made content in their products.
Garmex Saigon, which only outsources for foreign partners, is now focusing on making products for export under the FOB (free on board) model.
A senior executive of Garmex Saigon said that in 2011 and earlier years, Garmex had to import 70 percent of materials needed, while the proportion fell to 50 percent and it will go down further in the future.
"Two years ago, Garmex Saigon successfully persuaded an US partner to accept products with Vietnamese-made fabric," said Le Quang Hung, Chair of Garmex Saigon.
"Since then, we have bought one million square meters of fabric from domestic sources," Hung added.
Gia Dinh Textile & Garment has also succeeded with the FOB-model. It has poured VND400 billion into a textile factory, which is expected to provide cotton fiber to domestic enterprises that make shirts and sport T-shirts.
Meanwhile, Saigon 2 and Saigon 3 have been the pioneers in seeking domestic fabric supply sources.
The former now buys fabric from several Japanese invested enterprises in Vung Tau City, while the latter has successfully reduced Chinese-made material content to 20 percent.
However, analysts noted that it would be foolhardy to expect domestic textile and garment enterprises to escape reliance on China overnight. Vietnam can only do this step by step.
NCDT