VietNamNet Bridge – They not only have assets worth of millions of USD but also create jobs for many Vietnamese people in Africa, with monthly salaries of $1,000-$1,500.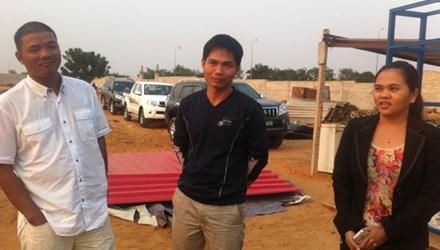 Mr. Cuong Viana (white shirt), a Vietnamese billionaire in Angola. Photo: Tien Phong
The distance from Luanda to Lubango Province in Angola, where many Vietnamese reside, is about 1,000 km.
One of the most well-known Vietnamese here is Mr. Nguyen Ngoc Ky, General Director of the General Trading, Construction Industry Company. In Lubango, Ky is called Paulo.
Ky speaks Portuguese well, which allows him to have good communications with the local authorities.
"Doing business in Angola, if you cannot speak Portuguese, you can be only a hired worker," said Ky.
Ky, 30, born in 1984, is a native of the central province of Ha Tinh. After graduating from the Hanoi Business Management University, he went to Angola to seek business opportunities.
Initially, when he was not fluent at Portuguese, Ky worked at many jobs to earn a living.
Ky saved money from a photography shop to open a construction company.
"In Lubango, the demand for construction is huge. However, local people are not good in building techniques. My success today comes after I won big contracts," said Ky.
Ky's company has nearly 100 Vietnamese workers, who earn net income from $1000 to $1500 per month and hundreds of native workers who earn wages of $250 to $500 per month.
Ky recently brought his wife and son from Vietnam to Angola.
What worries him most is trying to find new contracts. Ky plans to open a company to import Vietnamese goods into Angola by sea.
He has just bought a house in Hanoi as his base in Vietnam to facilitate trade between Vietnam and Angola.
In Viana, Mr. Cuong is dubbed the "king of soft drinks in Angola" because his company is the exclusive distributor of soft drinks in Angola.
Many big soft drink companies in the world are Cuong's partner. Cuong has spent millions of dollars to buy land and build warehouses in Viana.
In his vast headquarters in the state of Viana, hundreds of trucks carry soft drinks in and out every day.
Cuong said from here, soft drink products are distributed throughout Angola. Cuong currently employs more than 100 Vietnamese and Angolans, who earn over $1,000/month.
Mr. Do Ba Khoa, Vietnam's Ambassador in Angola, said proudly, "Local people love Vietnamese citizens for their contributions to the local community".
According to incomplete figures of the Vietnamese Association in Angola, there are over 40 Vietnamese USD millionaires, who do business in the fields of construction, soft drink distribution, motorcycle trading, vehicle repair and real estate.
Tien Phong