VietNamNet Bridge – Bac Ninh and Thai Nguyen provinces are competing to win the contract for a new Samsung investment project that involves manufacture of hi-tech screens.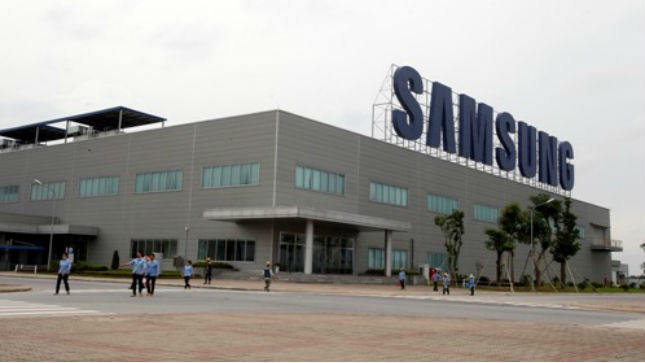 Sources said the "super project" that Bac Ninh and Thai Nguyen are trying to scramble for is Samsung Display, specializing in making screens of different kinds with advanced technologies.
Sources from Bac Ninh said the project is capitalized at $1 billion, while Thai Nguyen provincial authorities said the total investment capital is about $1.7 billion.
Though many cities and provinces wish to have Samsung's project in their localities, Bac Ninh and Thai Nguyen are the candidates with the most potential.
They both have been serving as the South Korean group's production bases in Vietnam for the last several years.
In Bac Ninh, the giant Korean company now runs SEV, a technology complex which has registered investment capital of $2.5 billion.
By the end of 2013, Samsung had disbursed $1.7 billion for SEV, which started its operation in April 2009. It has committed to disburse the remaining $800 million from now to 2017.
In 2013 alone, SEV exported $24 billion worth of products, making up 18.07 percent of Vietnam's total export turnover of the year. The project created 43,000 jobs.
Samsung also has a hi-tech production complex – SEVT – covering an area of 112 hectares in the Yen Binh Industrial Zone in Thai Nguyen Province.  
After local authorities created favorable conditions for Samsung to implement its project, the investor built a mobile phone factory in a rush and put it into operation in March 2014. The other two factories, capitalized at $1.38 billion, will be completed by September.
Investment incentives
In order to attract the project, Thai Nguyen authorities have decided to expand the Yen Binh Industrial Zone by 70 hectares.
"Everything is nearly ready for the 70 hectare land plot, including cleared land, infrastructure items (electricity, water) which can be allocated to the investor soon," said a senior official of the provincial authorities.
The local authorities have also offered a preferential infrastructure lease to Samsung's projects.
Meanwhile, Bac Ninh has promised to reserve a land area of 46 hectares in the Yen Phong Industrial Zone for Samsung projects, which are hoped to create 8,000 more jobs by 2020.
If Samsung chooses Bac Ninh, it would be able to enjoy attractive investment incentives designed specifically for hi-tech firms.
As for tax rates, Bac Ninh hopes it would get the nod from the Prime Minister on its proposal to apply the preferential corporate income tax of 10 percent for 30 years for Samsung.
Phap Luat