VietNamNet Bridge – China, with its huge population of 1.4 billion, may lack food in the near future, which could give Vietnam an opportunity to gain superiority in rice trading with China. But recent tensions in the East Sea have raised concerns that Vietnamese rice sales are in danger.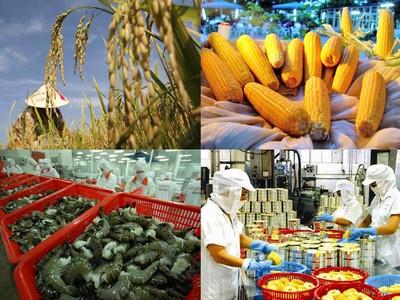 Vietnam's agricultural production, which depends on China as a major rice buyer and material supplier, could also suffer if the partnership with China ended, but experts say there is no need to worry. China will need Vietnam more than Vietnam will need China.
Prof Vo Tong Xuan, considered to be the most renowned rice expert in Vietnam, acknowledged that Vietnam imports many of its raw materials for agricultural production from China, and exports a large proportion of farm produce to China.
However, problems can be resolved, he said.
A recent report from the Ministry of Agriculture and Rural Development (MARD) showed that imports of fertilizers and pesticides from China accounted for 50 percent of import turnover in 2013, while 70 percent of hybrid-rice varieties were also from China.
Xuan believes that Vietnam could import pesticides from Japan, Switzerland or Taiwan instead of China.
In fact, the effectiveness of Chinese pesticides remains dubious, and Chinese pesticides are used mostly in the north.
Regarding hybrid rice varieties, Xuan said Vietnamese farmers would not buy Chinese varieties if local authorities stopped subsidizing farmers.
It is estimated that Chinese varieties would cost an additional VND40,000 per kilo, if the subsidy were cut.
What would happen if China stopped importing rice from Vietnam? The country has become the biggest consumer of Vietnam's rice. It bought 41.75 percent of Vietnam's total rice exports in the first five months of the year.
Analysts say this scenario will not occur because China will still need Vietnam's rice to feed its 1.4 billion consumers. In theory, China can buy Thai rice instead, but Thai rice is far more expensive than Vietnamese.
Analysts have cited international reports as saying that China would lack at least 10 million tons of food by 2020.
Agreeing with the analysts, Xuan said China has been depending on Vietnam as a rice supplier.
"They have been trying to step up food production, but the output is not enough for such a huge population," he explained.
"China can only buy Thai rice in small quantities because Thai rice is expensive. Meanwhile, there are no other supply sources, if Laos and Cambodia also have to buy rice from Thailand," he added.
Therefore, Xuan believes that Vietnam should take the initiative in doing business with China by focusing on exporting products through official channels rather than across the border.
Vietnamese exporters, however, still prefer across-the-border exports because of the simple procedures used.  
However, Xuan said it would be better for Vietnamese exporters to protect themselves with written rather than oral contracts.
Dat Viet/VNN