VietNamNet Bridge – Shipping firms have become more cautious about travelling in the disputed East Sea area, while high-ranking officials fear a decline in the aviation market.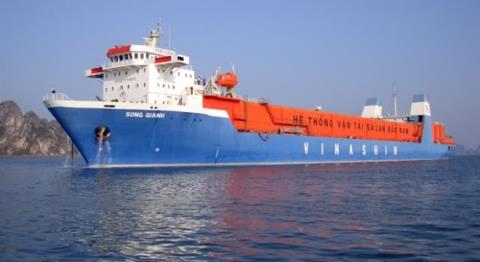 Le Anh Son, the CEO of the Vietnam National Shipping Lines (Vinalines), said the East Sea tensions had adversely affected activities of the state-owned shipping firm, the largest in the country.
To avoid being seized at Chinese ports, Vinalines was carefully considering whether to send ships to the area, Son said.
Vinalines' vessels, for example, when docking at Chinese ports, will have to obey the rules on maritime safety and international laws more strictly if the Chinese tighten their inspections.
"It would be better to be more cautious when going through the disputed area, think more carefully and keep a long-term vision when considering business contracts," he said.
"Any minor trouble, such as ships being seized by Chinese agencies at Chinese ports, could cause Vinalines to incur financial damages," he explained.
Lai Xuan Thanh, head of the Civil Aviation Authority of Vietnam, on May 13 said that the illegal acts of the Chinese in setting up an oil rig in Vietnam's exclusive economic zone would surely affect the aviation industry.
Thanh was quoted in a local newspaper as saying that the tensions in the region would affect Vietnamese and Chinese aviation markets, while the operation of Chinese military aircraft in the FIR (flight information region) controlled by Vietnam would affect civil flight operations.
Though there has been no official report about such an impact on the industry, Thanh said the Vietnam-China aviation market would see a decline in the time to come.
The East Sea has one of the busiest air routes in the world. The sudden increase of Chinese military flights would affect normal flight operations there.
Thanh said CAAV has asked the Flight Management Corporation to improve its management capability so that it can discover errant operations in the East Sea and ensure the safety of flights over the hot spot.
Meanwhile, the State Bank of Vietnam has said that the East Sea's events have not had any significant influence on the Vietnamese banking system.
Speaking at a press conference on May 29, the Governor of the State Bank, Nguyen Van Binh, denied the rumour that foreigners had rushed to withdraw money from Vietnam.
Binh said that the dong/dollar exchange rate and the gold market had fluctuated slightly for one week amid the news about the East Sea.
In fact, the fluctuation could have also been caused by the public being aware that the bank would adjust the exchange rate in June.
However, everything has returned to normal, he said. Foreign banks, including Chinese-invested ones, have committed to maintaining long-term operations in Vietnam, and some of them have said they are considering opening more branches in the country.
Dat Viet