VietNamNet Bridge – Three- to five-star hotels in Hanoi have all reported an unsatisfactory occupancy rate in the last six months, but the city expects to have 1,300 more hotel rooms by 2016.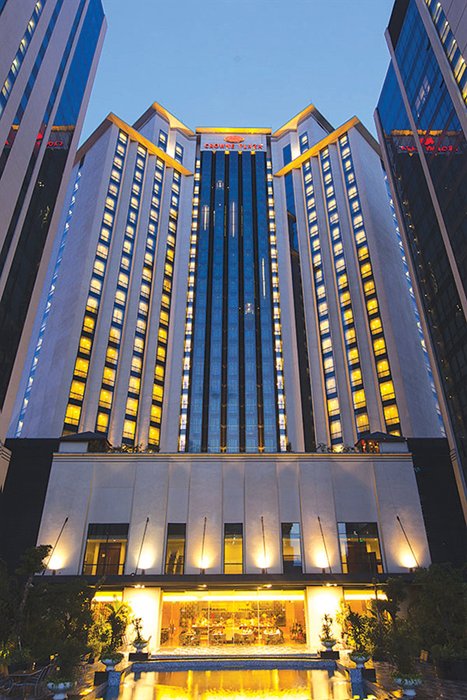 A report of Savills Vietnam, a real estate service firm, showed a low occupancy rate of 60 percent in the fourth quarter of 2013. Two 5-star hotels in Tay Ho District, Sofitel Plaza and InterContinental Ho Tay, have even reserved some hotel rooms for lease.
Adam McDonald, CEO of InterContinental Ho Tay, has confirmed that some hotel rooms have been re-designed into 25 1-3-bedroom apartments for lease, explaining that this aims to satisfy an increasing demand. Many foreigners want to lease apartments for 3-6 months during their stays in Vietnam, he said.
According to Ngo Huong Giang from Savills Vietnam, there are 57 three- to five-star hotels in Hanoi that can provide 8,150 rooms. In the first quarter of the year, Hanoigained three additional three- to four-star hotels, with 200 rooms.
Savills Vietnam noted that 36 hotel projects in Hanoi have been registered. However, only five projects are under implementation which, when operational from now to 2016, would provide some 1,300 rooms.
Giang said the majority of the unimplemented projects received licenses six to seven years ago, when the high-end hotel market was hot, with the hotel room occupancy rate at 80 percent and hotel room rates at $120-150 per day.
However, the projects have not moved ahead for many reasons. The hotel projects are component projects of larger urban area complexes.
Since the larger projects are being re-drawn to fit the new circumstances of the market, the hotel developers have to wait until the re-drawing finishes.
The low financial capability, changes in investors' business strategies and the economic downturn have all contributed to the projects' implementation.
Giang from Savills Vietnam said though the business was not really prosperous now, she can see optimistic signs. The hotel room occupancy and the average room revenue in the first quarter of the year increased by 3 and 4 percent, respectively, in comparison with the same period last year.
The stable increase in the number of travelers to Hanoi (705,000 foreign travelers, up by 14.6 percent, and 4.87 million domestic travelers, up by 8 percent) in the first quarter of the year was another reason to believe that the situation would get better in the near future.
Hanoi was named as one of the 10 most attractive cities in the world in 2014, according to TripAdvisor.
Tuncay Bockin, CEO of Crowne Plaza West Hanoi, believes that Vietnam has become a major destination in Asia for travelers, with 5 million foreign travelers a year.
He believes that Vietnam's potential for tourism development iseven bigger than Thailand's, which received 20 million foreign travelers 10 years ago. He said Hanoi needs to get ready for that, especially in terms of high-end hotels.
TBKTSG/VNN