VietNamNet Bridge – A cheap labor force is no longer a great advantage for Vietnam in attracting foreign direct investment (FDI), while a low labor productivity rate is not helping matters, either.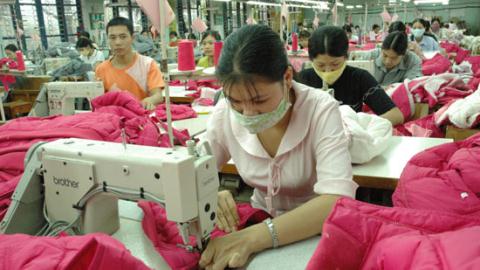 The latest report released by the International Labor Organization (ILO) showed that the Vietnamese labor productivity rate in 2013 was among the lowest in Asia Pacific. It was 15 times lower than Singapore's, 11 times lower than Japan and 10 times lower than South Korea.
Vietnamese labor productivity was also lower than ASEAN neighboring countries, just equal to one-fifth of Malaysia and two-fifths of Thailand.
Even though cheap labour costs still draw investors, productivity remains important.
A director of a wooden furniture manufacturing company said he had been able to sign more export contracts because foreign importers were looking for cheaper markets as China's labour costs had risen.
However, the cheap labor force in Vietnam will no longer be the advantage in international trade and will not ensure sustainable development for Vietnamese businesses.
He said the average salary for Vietnamese workers had been increasing rapidly, while labor productivity growth had slowed down, which makes Vietnamese products less competitive.
Vietnam once witnessed a high growth rate of labor productivity of 5.2 percent per annum in 2002-2007, the highest level in the region. However, that growth has slowed to 3.3 percent since 2008, when the global economic crisis began.
Mai Duc Chinh, deputy general director of the Vietnam Labor Union, confirmed that the lower labor productivity of Vietnam was true, compared with other regional countries, especially Singapore.
Singapore, with only 5 million people, can generate $100 billion a year, which means that every person can generate $20 million a year.
Meanwhile, 90 million Vietnamese people can create $100 billion a year.
Pham Chi Lan, a well known economist, has warned that low labor productivity will become a big challenge for the immediate future.
By 2015, when the ASEAN Economic Community is established as scheduled, ASEAN would be a large liberalized market not only for goods and services, but also for laborers as well.
Vietnam's current labor problem in the tourism sector, for example, may become even more serious from 2015, when tourism workers will be allowed to freely look for jobs throughout ASEAN countries under the agreement on equivalent skills.
"It may happen that there are only Malaysian, Thai or Indonesian workers at the hotels and resorts in Vietnam by that time," Lan said.
Phan Danh Dung, deputy director of Vien Dong Hotel, noted that it is difficult to find qualified workers due to poor training strategies. The majority of Vietnamese workers have poor communication and foreign language skills, he said.
Chinh from the Vietnam Labor Union has also warned that the unsatisfactory qualifications of Vietnamese workers caused by poor training schemes would badly affect Vietnam's strategy to attract foreign direct investment.
The great advantages of Vietnam, including political stability and attractive tax incentives, would be overshadowed by low labor productivity.
Compiled by Kim Chi