VietNamNet Bridge – Order has been restored in southern industrial parks and export processing zones as most businesses in HCM City and neighbouring provinces have resumed operations following riots led by extremists who incited workers to violate security regulations, the vice chairwoman of a provincial labour federation has said.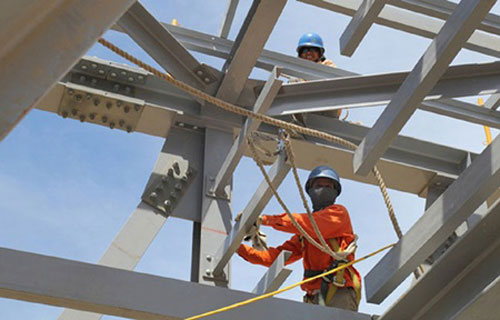 Workers return to work at Formosa Company's construction site in the Vung Ang Economic Zone in central Ha Tinh Province. — Photo: VNN
Truong Thi Bich Hanh, vice-chairwoman of Binh Duong Province's Labour Federation, said that more than 80 per cent of businesses in Binh Duong Province had resumed working as of late last week.
Seriously affected businesses like the Taiwanese Asama company in Song Than 2 Industrial Park, which makes bicycles, announced that it would reopen soon, she said.
According to districts' labour federations, as of yesterday (May 19), almost all businesses in HCM City, including businesses at 15 industrial parks and export processing zones in the city, had resumed operation.
Nguyen Van De, chairman of the labour federation of Binh Tan District, said all businesses in the district had reopened last Friday.
And Nguyen Thi Nguyet, chairwoman of the labour union of Cuong Tai Garment Company in Go Vap District, said, "Our workers are working hard to meet foreign orders. The company is now working every day except for Sunday. At first, the workers were concerned about the unrest, but they are no longer. At present, the company is recruiting 100 workers to meet the orders of the US and other export markets."
In Dong Nai, the labour federation of Dong Nai Province said 100 out of 165 businesses affected by the riots resumed operation on Sunday, and the rest yesterday, except for some seriously affected businesses that need more time to reopen.
Companies with a large number of workers such as Teakwang ViNa in Bien Hoa 2 Industrial Park (24,000 workers), ChangShin VN in Vinh Cuu District (23,000 workers) and PouChen VN in Hoa An Commune in Bien Hoa (23,000 workers), have all welcomed workers back.
Nguyen Van Thang, chairman of the labour union of Bien Hoa Industrial Park, said most businesses in Bien Hoa resumed operation last Friday.
Companies, most of which were Taiwanese, in Tam Phuoc Industrial Park, are now repairing factories to welcome workers back for work. These businesses were some of the most affected by the riots.
However, Ly Quang Dong, director of Song Than 2 Industrial Park in Di An Village in Binh Duong Province, said the park was the hardest-hit, with 53 businesses destroyed and 10 businesses set on fire. But 90 per cent of businesses had resumed operation as of yesterday, May 19.
Authorities visit
Authorities of the southern provinces of Binh Duong and Dong Nai have visited enterprises and assured them that their companies and employees are safe, following unrest.
On Friday, a delegation of Binh Duong provincial authorities led by the deputy chairman, Tran Thanh Liem, visited enterprises at Viet Huong Industrial Park and Viet Nam-Singapore Industrial Park (VSIP) No 1.
Other delegations led by the provincial authorities, the Binh Duong Federation of Trade Union and the management boards of industrial parks in the province also visited other industrial parks such as Song Than Industrial Parks No 1 and 2.
At Viet Huong IP, Liem offered an apology for damages suffered by the enterprises last week.
Liem also asked the management boards of industrial parks to take stock of damages so that Binh Duong People's Committee could report to the Prime Minister and map out plans for assistance.
According to VSIP's management board, as of May 16, more than 60 per cent of enterprises in VSIP Industrial Parks No 1 and 2 had returned to work.
On Friday, seven delegations led by officials from Dong Nai People's Committee visited and talked with representatives of enterprises in industrial parks in the province.
"We apologised for the damages caused by 'extremists' who have also affected the province's investment environment," Tang Quoc Lap, deputy chairman of Dong Nai Federation of Trade Union, said during a visit to Bien Hoa Industrial Park No 2.
Security measures
On Sunday, at the Vung Ang Economic Zone in the central province of Ha Tinh, many workers were working at construction sites.
Security was being strictly maintained by border guards and police in front of the entrance of the Formosa factory, with access given to workers only.
On the same day, Le Que, director of Ha Tinh General Hospital, said 94 Chinese patients who had been hospitalised because of the riots would be released.
Before leaving the hospital, the Chinese patients wrote a letter expressing their deep gratitude to the local authorities, doctors and volunteers for their help so they could return to work.
On Wednesday (May 14), more than 1,000 Vietnamese workers in the zone began staged marches against China's illegal deployment of oil rig to Viet Nam's waters.
Violent fights erupted at 3pm the same day when the demonstrators gathered in front of one gate of the Taiwanese-owned Formosa steel plant.
VNS/VNN