VietNamNet Bridge – Foreign investors say they consider the riots triggered by disruptive elements some days ago to be unfortunate incidents, but affirm that they do not intend to leave Vietnam, which they still find "attractive" and "friendly".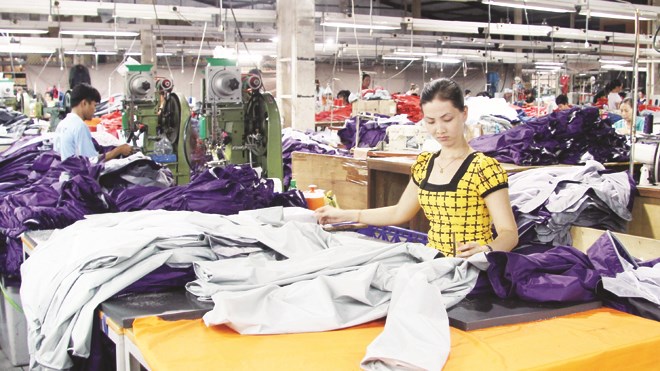 Nearly all the foreign invested enterprises affected by the riots some days ago have resumed their normal operation.
Chau Vi Chi, Marketing & Business Director of Asama, a Taiwanese-invested enterprise, said he maintains daily contact with the company's general director, who is now in Taiwan and repeatedly affirms that he will not leave Vietnam.
"He said he returned to Taiwan amid the current uncertainties, but he will not abandon his business in Vietnam," the director said. "He said he shares sympathy with the government of Vietnam and he cannot abandon his workers".
Tran Quang Vinh, the representative of the Dai Dang Industrial Zone, said 30 enterprises there have resumed their operation after the incidents, while 80 percent of foreign-invested enterprises are expected to complete repairs of their damage this week and be able to resume normal operation.
The managers of Taiwanese- and Malaysian-invested Power Joy Vietnam, and South Korean-invested Kumho Electric Vina have said they now feel completely secure as the extremist elements have been arrested.
"We have confidence in the promises of the Vietnamese leaders, from the central agencies to local authorities, that they will create the most favorable conditions for foreign-invested enterprises to do business in Vietnam," the representative from Power Joy Vietnam said.
Hoang Ngoc Hinh, Personnel Director of Thong Dung Shoes Company, a Taiwanese-owned enterprise in the Song Than 1 Industrial Zone, said that while the company suffered some damage, it sympathizes with the local authorities.
"The workers were on the company's side. They filmed the actions of the bad actors, which provided important evidence for the police in helping them make arrests," Hinh said.
Wu Ten, President of Song Tian Tong Company, said: "We don't want our workers to lose their jobs. Please help us go through the procedures for importing materials quickly so that we can start our production soon".
Meanwhile, Kyu Hwa Lee, President of Han Sung Vietnam, a 100 percent South Korean-invested enterprise in the Dat Cuoc Industrial Zone, said he would inform other businessmen about the situation and tell them to return to work, as the provincial authorities have promised to ensure public order.
Local authorities have made strong commitments to protect investors' assets. "We have been doing everything necessary to be sure that no enterprise suffers," stated Tran Thanh Liem, Deputy Chair of the Binh Duong Provincial People's Committee.
Liem has instructed district officials to calculate the damages incurred by enterprises in the riots, affirming that the government will apply the necessary policies to help the businesses regain their normal operation.
Chair of Binh Duong province Le Thanh Cung said the bosses of the affected Taiwanese- and Chinese-invested enterprises, who left after the riots, have confirmed they will return to Vietnam this Monday or Tuesday.
A report of the local authorities disclosed that the riots have affected 25,000 workers. Bui Huu Phong, Director of Binh Duong Provincial Social Insurance, said workers will receive unemployment allowances.
Vietnam vows to ensure safety for businesses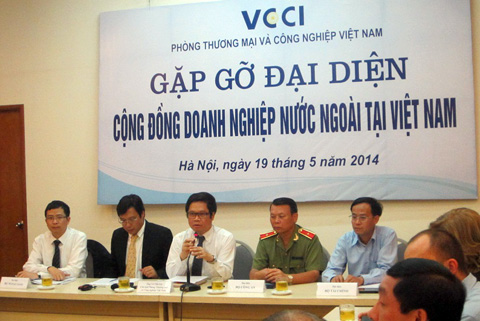 VCCI officials at the meeting with foreign investors on Monday.

The Vietnamese Government firmly takes every necessary measure under the law and international commitments it made to ensure security, safety and legitimate rights of foreign organisations, businesses and individuals in Vietnam.
President of the Vietnam Chamber of Commerce and Industry (VCCI) Vu Tien Loc made the affirmation at a meeting in Hanoi on May 19 with representatives of foreign businesses operating in Vietnam to listen to their opinions on recent extremist actions taken by some individuals in Binh Duong, Dong Nai and Ha Tinh provinces that damaged the country's image.
Any act that harms the staff and assets of foreign enterprises is totally not accepted and those who sparked disturbances will be stringently punished to avoid a repeat of the violence, Loc said.
He also assured that the VCCI will apply all necessary measures to assist businesses with a view to restoring their trust in Vietnam's investment environment.
According to Loc, 80-90% of businesses affected by the disturbances have to date resumed their operations with the support and assistance of local authorities and competent agencies.
On May 13-14 during workers' parades to protest China's illegal placement of an oil rig in Vietnam's waters in the three above-mentioned provinces, some bad individuals destroyed assets of foreign businesses, negatively impacting on Vietnam's investment and business environment.
Right after the incident, the Vietnamese Government implemented a series of measures to control the situation and support the affected enterprises to restore their operations.
Localities assist foreign businesses restore production
Ho Chi Minh City has instructed relevant agencies to take prompt measures for the full resumption of operation of foreign businesses, which had have their assets damaged by bad individuals during illegal protests against China's violation of Vietnam's sovereignty.
Vice Chairman of the municipal People's Committee Le Manh Ha was speaking at his May 19 working session with representatives of the Taiwan Business Association at the Tan Thuan Export-Processing Zone (EPZ), which houses many Taiwanese businesses.
He affirmed that HCM City has been sparing no effort to protect the life and assets of investors and provide them with necessary assistance to restore their operations following the incidents.
Ha added that those who excited workers to spark social disorder have been arrested and will be strictly treated under the law.
He expressed his belief that foreign investors will continue putting their trust on the Vietnamese Government and the municipal authorities.
Liau I-Hsiung, head of the Taiwan Business Association, said over the past days, Taiwanese businesses have not been affected by the disturbances and all of them have still been operating normally.
However, they have proactively worked with the EPZ management board to prepare solutions for any contingency, he said, suggesting responsible agencies launch more communication and education campaigns to raise workers' awareness of respecting law and working regulations.
According to Vu Van Hoa, head of the HCM City Export-Processing and Industrial Zone Authority (Hepza), on the morning of May 19, almost all businesses in the city's IZs and EPZs resumed operations, reflecting their confidence in the local authorities' solutions.
The same day, Vice Chairman Ha visited Chinese enterprises at the Tan Thuan EPZ and the Vinh Loc IZ.
On the same day, the southern province of Binh Duong informed the press about the implementation of measures to help the affected businesses stabilise their production.
Meanwhile, the southern province of Dong Nai vowed to apply every measure to support the damaged businesses.
In the northern city of Hai Phong, local authorities made visits to foreign-invested companies, assuring them that maximum security solutions have been rolled out.
Tien Phong/VOV/VNA