VietNamNet Bridge - HCM City on Saturday welcomed the largest ship ever that docked at the Sai Gon Center Terminal Port, through the newly-dredged Soai Rap Estuary.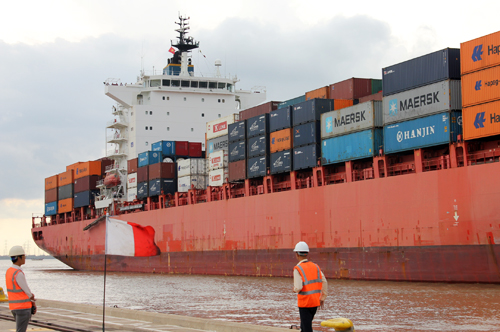 NORTHERN GENIUS, 54,020 tons, docked at the Saigon Center Terminal Port on Sunday.
At the meeting on the preparation to welcome the 54,000 ton-vessel through the Soai Rap Estuary on Friday, Mr. Le Hoang Minh, director of the Soai Rap Estuary Dredging Project said the dredging project has so far reached a depth of 9.5 m and the width of the passage is from 120m to 160m.
The system of navigation aids, buoys and navigation equipment has also been completed to enable ships of up to 54,020 tons to get in and out of the Saigon Center Container Port safely.
Mr. Nguyen Le Chon Tam, Deputy General Director of the Saigon Center Container Port said, thanks to the Soai Rap passage, ships can cut two hours of travel and half of the cost for navigation compared to the use of the Long Tau passage. It is estimated that a 50,000 ton vessel can save over $500,000 a year once the Soai Rap passage opens.
In addition, the length of vessels is not restricted at night in the Soai Rap passage as the Long Tau so ships can release cargo faster to cut costs and time.
Tam said five carriers had informed the port that they would open direct transportation routes from HCM City to large markets in the world, instead of having to transit through an intermediate port in Northeast Asia or Southeast Asia. According to Tam, the port's capacity is expected to rise over 50% when ships go through Soai Rap.
The Soai Rap dredging project began in late November 2012, aiming to dredge a length of 54km with a surface area of 1,308 hectares of the Soai Rap River in HCM City, Long An and Tien Giang.
The project was implemented in 14 months with a total investment of nearly VND2.8 trillion, including the Belgian Government's ODA (VND2.2 trillion) and the HCMC People's Committee's VND624 billion.
It is estimated that the output of goods through Soai Rap will reach 120-150 million tons by 2025. The revenues brought about by Soai Rap is calculated at VND580-720.4 trillion in 2015-2015 while the cost of dredging and maintenance of the passage in 10 years is only about VND4.81 trillion.
Currently ships from the East Sea to HCM City have to run through Vung Tau Cape, Ranh Rai bay and the rivers of Nga Bay, Long Tau, Nha Be and Saigon Nha with a distance of 85 km. On the other hand, the Long Tau passage is narrow, not enough space for big vessels.
$1 = VND21,000
Na Son