VietNamNet Bridge – China has benefited in a major way from its bilateral trade with Vietnam. It mainly buys raw materials, exports processed products and makes modest investments in Vietnam.
A trap for Vietnam?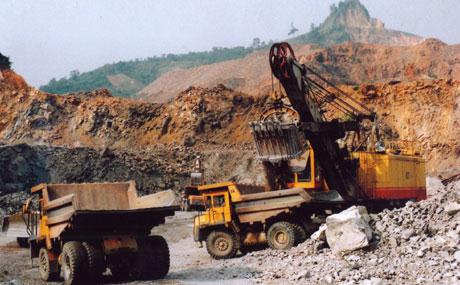 Dr. Pham Sy Thanh recently said on VnExpress that if the value of the Vietnam-China two-way trade is compared with a 3-piece cake, two would belong to China, while only one piece is reserved for Vietnam. Thanh is Director of the Chinese Studies Program, a part of VEPR, an economics and policy research center.
A VEPR study has shown that 50 percent of Vietnam's exports to China are raw or preliminarily processed goods, while 85 percent of its imports from China are refined products, which means that the balance of trade is strongly in China's favor.
At the same time, up to 80 percent of the materials and technologies Vietnam uses for its domestic production are Chinese.
Citing the figures, Thanh has warned about the so called "trade liberalization trap" Vietnam may be falling into when doing business with China.
The situation is not unique to Vietnam. Some countries rich in natural resources but with a relatively low level of industrialization similarly export a large share of natural resources and raw materials to China. Meanwhile, China exports finished products with high competitiveness to those same countries.
"As a result, the natural resource exporting countries cannot develop industrial production, due to their heavy reliance on raw material exports and low-value added products," Thanh said.
Vietnam's farm produce export to China unstable
Vietnam has tasted more bitter than sweet in doing trade with its neighbor to the north.
In late March, thousands of trucks carrying watermelons were seen backed up at the Tan Thanh border gate, with Chinese customs refusing to accept them. As the melons could not be sold, their prices plunged to VND1,000 per kilo. In the southern provinces, farmers left their water melons to rot in the fields, or used them to feed their livestock.
Chinese businessmen come to Vietnam to collect everything in the country, from buffalo toes to sweet potato leaves, from bloodsuckers to herbs. They place orders with Vietnamese farmers and then disappear from the market, leaving the harvested products unsold.
What Chinese bring to Vietnam?
Pham Chi Lan, a prominent economist, has emphasized the point that Chinese businesses "play unfair" when they win contracts for major projects by submitting the lowest bids on them, then later find ways to demand additional funding.   
Chinese contractors bring Chinese materials, machines, and workers to Vietnam to complete the projects, and leave behind low-quality construction works. Other Chinese come to Vietnam to collect Vietnamese materials and exploit its natural resources, which does little to help create jobs and develop the economy.
China is a longstanding trade partner for Vietnam, but its investments in Vietnam have been very modest. A report disclosed that by the end of April 2013, Chinese registered investment capital had reportedly reached $7.8 billion, accounting for only 3 percent of total foreign direct investment in Vietnam.
Is China following a neocolonialism policy?
China has recently been accused of pursuing a neocolonialism policy in Africa. Chinese come to the Dark Continent just to exploit the natural resources and use the local cheap labor force, while bringing nothing good to the land.
Vietnamese analysts say Africa could be a valuable lesson, and cautionary tale, for Vietnam.
Dat Viet