VietNamNet Bridge - According to a newly-released report by Nielsen, a market research firm, the index of consumer confidence in Vietnam in the first quarter of 2014 rose slightly to 99 points, from 98 points in the last quarter of 2013. This is the highest level since the fourth quarter of 2011.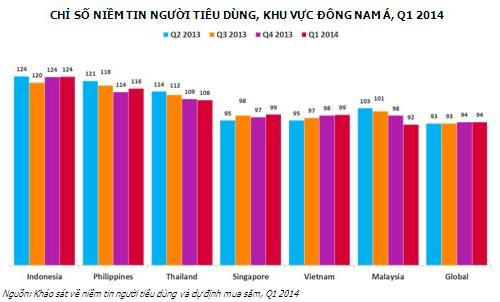 Consumer confidence indexes in Southeast Asia, 1st quarter.
The continual increase in this index in the last 4 quarters demonstrates that Vietnamese are growing more optimistic about the financial situation of the country. It also correlates with a gradual relaxation of consumer spending habits after nearly two years of austerity. However, Vietnamese concerns about the future still exist because the figure remains below the maximum of 100 points.
Nearly a third of respondents said that Vietnam's economy woods is still not out of the woods. 56% felt that the financial situation will be better or very good this year, up slightly from the last quarter of 2013 but still lower than the regional average (62%). 39% of survey participants said that this year will be good or very good to purchase the things they need or want, lower than the regional average (42%); it's also lower than that of a number of neighboring countries such as Thailand (47%) and the Philippines (50%), but higher than Singapore (37%) and Malaysia (29%).
Savings is still the top priority of the majority of interviewees (77%) but they also spent money on travel, upgrading houses and investing in securities in the last quarter.
The survey of consumer confidence was launched by Nielsen in 2005, measuring optimism, concerns and purchasing plans of more than 30,000 online respondents in 60 countries.
S. Tung