VietNamNet Bridge – The unexpectedly successful results of agriculture projects implemented under the mode of PPP (private public partnership) have raised high hopes that foreign direct investment (FDI) capital in agriculture may witness a boom in the time to come.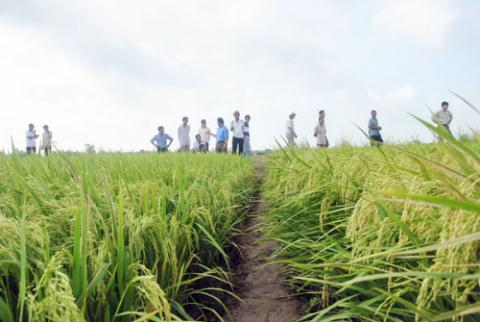 The Ministry of Agriculture and Rural Development (MARD) has, for the first time within one month, held a conference on PPP investment in agriculture, which shows its high interest in the investment model.
Vietnam is one of 11 countries in the world which has been applying the PPP model in agricultural projects on a trial basis, with the participation of the world's 20 leading conglomerates.
All the PPP projects belonging to six groups (tea, fruits and vegetables, goods, fish, coffee and credit) have been operating very well.
According to Tran Vu Hoai, Vice President of Unilever Vietnam, the representative of the tea PPP group, Vietnamese farmers and tea processing workshops have been well-trained in sustainable agricultural production to obtain international certificates.
Unilever buys about 35,000 tons of tea, which has the Rainforest Alliance Certificate, every year, to process products for export.
The businesses joining the tea PPP group reportedly have invested 440,000 Euros in the training program and in production cooperation with 23,000 farmers in six provinces.
Promising results have also been reported by the seafood PPP group. Philippe Bacac, Managing Director of Metro Cash & Carry Vietnam, said Metro, together with Cargill and Fresh Studio, has successfully built up production chains meeting international standards, which helps Vietnamese seafood products easily penetrate supermarket chains.
It is estimated that 4,000 tons of seafood products from the PPP projects is consumed by supermarkets nationwide.
It is hoped that PPP will help lure more investments into the agriculture sector, which, in the eyes of investors, has never been attractive enough.
Analysts think that once value chains can be set up, more foreign investment will pour into the agriculture sector.
"I strongly believe that Vietnam has great opportunities to attract FDI into agriculture through PPP projects," said Dang Kim Son, Director of the Institute for Policies and Strategies on Agriculture and Rural Development.
Also according to Son, injecting money into agriculture is a growing trend in the world. If the government of Vietnam can successfully carry out the agriculture restructuring process, Vietnam will see investments in the sector increase sharply – not only from FDI, but also domestic investments.
Some Vietnamese steel and seafood companies have tried to produce rice.
The Vinh Hoan Seafood Company began making rice two years ago.
Vinh Hoan focuses on making fragrant and parboiling rice, two high-grade products. Fragrant rice has been favored in China and Hong Kong. Khanh, who has returned from a market survey in China, revealed that Vinh Hoan has signed a contract on providing rice to a Chinese restaurant chain.
The 30-year old Cam Nguyen Steel Company has also decided to grow rice. Its owner, Huynh Cam, said he made the decision because he knows Vietnam's rice is very famous in the world.
Mai Chi