VietNamNet Bridge - According to the Governor of the State Bank of Vietnam (SBV) Nguyen Van Binh, this is the highest level ever. Binh also pledged that interest rates will not exceed 1% from now until year's end.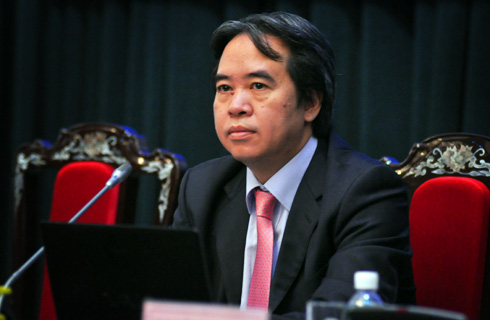 This information was released by Binh during a dialogue between Prime Minister Nguyen Tan Dung and the business community on Monday.
According to the head of the banking sector, Vietnam's foreign exchange reserves are now at their highest level, at over $35 billion. "The figure not only highlights the stability of the Vietnam dong but also strengthens the position of Vietnam in the international arena," Binh said.
This is the first time a representative of the State Bank has made public the country's foreign currency reserve. Earlier, Binh said that in the first quarter alone, the central bank purchased $7.7 billion.
At the end of October last year, in an update report, ANZ estimated the foreign exchange reserves of Vietnam at about $32 billion. At that time, the State Bank had not published specific numbers, but ANZ was able to make an estimate based on the government's report at the 6th session of the 13rd National Assembly. Prime Minister Nguyen Tan Dung had stated that the country's foreign exchange reserves had rapidly increased, to a level sufficient for about 12 weeks of imports.
Earlier this year, Governor Binh unveiled that interest rates would remain stable and, if adjusted, would not exceed 2%. However, talking to businesses on Monday, Binh reduced the ceiling to no higher than 1%.
In the dialogue with businesses, Governor Binh also answered questions related to interest rates for small and medium-sized enterprises (SMEs). He said that, at present, 60% of banking capital is being pumped into SMEs. "As such, any difficulties in the activities of SMEs directly affect the outcomes of the business of credit institutions," he said.
At a press conference last week, the State Bank said 16% of the total debt balance of the economy is suffering from the weight of 13-15% interest rates. Governor Binh said the majority of these debts are loans for consumption, and real estate.
Na Son