VietNamNet Bridge – Several banks have recently presented plans or expressed intentions to complete mergers even as the nation continues to speed up the restructuring of credit institutions.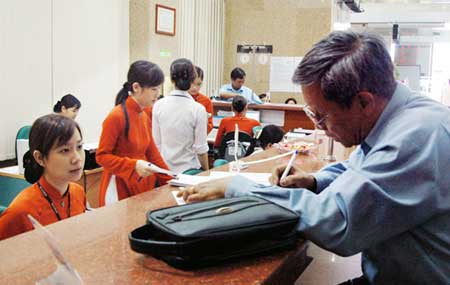 A customer carries out a transaction at Sacombank's branch in Ha Noi. Sacombank shareholders last month voted for a merger with Phuong Nam Bank. 
Vietcombank chairman Nguyen Hoa Binh told a shareholder meeting on April 24 that mergers and acquisitions (M&As) may happen at the bank in the near future as they are necessary for growth. The bank has plans to raise capital for M&As as and when conditions permit.
"The process of finding a suitable partner hasn't been up to expectations, and the time [for a merger] can't yet be fixed," VnExpress online quoted Binh.
Last week, the shareholder meetings of Mekong Development Bank and Maritime Bank announced plans to merge with other credit institutions but refused to name them. A section of the media reported earlier that these two banks would possibly merge.
Also last week, at the shareholder meeting, the management board of PG Bank, mentioned that a merger with another bank was on the cards as part of its restructuring process. PG Bank said earlier in a website report that it might sell 99 per cent of its stake to Vietinbank.
In late March, Sacombank shareholders voted for a merger with Phuong Nam Bank, or Southern Bank. The move is believed to help foster Sacombank's competitiveness and prop up the fragile Phuong Nam. The merger procedures will be implemented this year.
Military Bank and VietCapitalBank leaders also said recently that they would consult shareholders about plans to merge with other credit institutions.
Banking expert Nguyen Tri Hieu said that most of the banks are still exploring the opportunities, and there won't be a wave of M&As immediately, as it will be a long and challenging way forward for them. However, with several banks actively taking M&As into account, it is a positive sign for the economy.
"Restructuring through M&As will help remove weak institutions and avoid collapses for the banking system," he told The Banking Times.
Hieu noted that M&As are the most suitable choice for small banks as increasing equities isn't easy for them, while many medium and large banks are also seeking mergers as part of their business strategies.
State Bank of Viet Nam Governor Nguyen Van Binh told a Government meeting in late March that the central bank would continue to restructure a series of credit institutions this year, and six to seven lenders would be re-organised through mergers.
Vo Tri Thanh, deputy director of the Central Institute for Economic Management, said a lot still remains to be done to fulfill the Government's scheme to restructure credit institutions until 2015. The banking sector still faces many problems related to operation quality, risk management and transparency.
M&As will be a solution to these problems, he said, as mergers will help banks enhance capital capacity, improve money flow supervision and minimise the risks of cross-ownership, as well as bring them better opportunities to find strategic partners.
National Finance Supervisory Commission chairman Vu Viet Ngoan noted that important issues such as bad debts will continue to plague banks after mergers.
According to Nguoi lao dong (The Labourers) newspaper, Sai Gon–Ha Noi Bank (SHB) has had to focus on resolving the high ratio of bad loans since it merged in August 2012 with Habubank, whose bad debts amounted to roughly 15 per cent at the time of the merger. SHB reduced its bad debt ratio to over 4 per cent late last year, but this was still high in comparison to the levels of other banks.
Hieu pointed out that the irregularity of bad debt data in Viet Nam will put the banks eyeing M&As at significant risk. But he stressed that if the banks become stronger after the mergers, they will be more attractive to foreign investors.
"Foreign investors may worry about their investments in Vietnamese banks if too many M&A activities are underway. But at present, I haven't noted any foreign investors' concerns or fleeing, and things even seem to happen in an opposite way," he said.
Source: VNS