VietNamNet Bridge – Having close trade relations with China, Vietnam will undoubtedly feel the effects of its neighbor's slowdown in economic growth.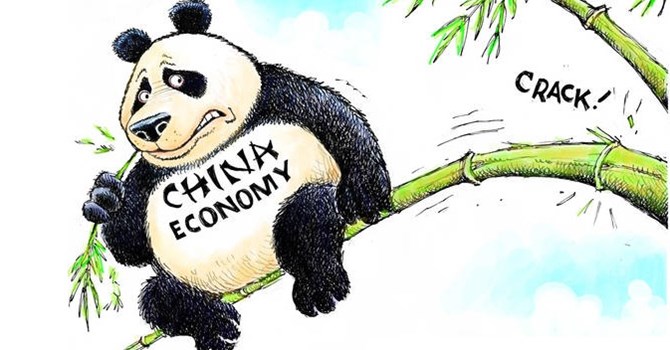 Vietnam's export sector will be the first to suffer from the deceleration of the massive economy.
Previously, when China injected big money into its infrastructure development and production expansion projects, it consumed a huge volume of imports, including raw material imports from Vietnam.
Nowadays, as the Chinese government tightens the investment flow into fixed assets, demand is likely to weaken, leading to the reductions in imports from Vietnam, especially for coal and rubber.
China has been the biggest consumer of Vietnam's coal and rubber: it accounted for 47 percent of Vietnam's total rubber exports in 2013 and 77 percent of coal.
In fact, the coal exports to China have been decreasing gradually in recent years, from 24 million tons in 2007-2008 to 12 million tons in 2013, while the figure is expected to drop to 8 million this year.
According to Phan Minh Ngoc, a well-known analyst, the problem for bauxite and ore producers will be especially serious, not only due to the weaker demand from China, but also because of their production expansions in recent years, when China witnessed hot economic growth.
Australia is a typical example of how a country both benefits and suffers from the ups and downs of Chinese demand.
The country profited hugely in 2008-2009 when the copper price soared to $200 per ton. But later, in 2011, when the price plunged to $90 per ton, 11,000 mining workers lost their jobs.
Ngoc has also pointed out that Vietnamese businesses will face even larger difficulties once China, in an effort to offset its economic growth slowdown, tries to boost exports. Vietnam would be the first target export country China eyes thanks to the short geographical distance.
Ngoc thinks that Vietnamese would "lose more than gain" and that there would be not many great opportunities for them.
Chinese products, cheap and diversified, have been increasing their presence in Vietnam. Meanwhile, Vietnamese businesses really need Chinese materials for domestic production.
A report of the Ministry of Industry and Trade showed that by the end of 2013, the deficit in trade with China had reached $23 billion, or 18 percent of the total export turnover.
Meanwhile, the experts from the Trade Research Institute have warned that depreciation of the Chinese yuan will also have negative impacts on Vietnam's trade activities, as it would make Chinese products cheaper in the world market.
Ngoc noted that if Vietnam wants to restrict Chinese imports to the domestic market, it would have to "play like China", that is, it needs to devalue the dong.
However, dong depreciation would not be well-accepted by the policy makers in Vietnam, who believe that the priority now is to gain people's confidence by curbing the inflation.
However, Nguyen Mai, a prominent economist, said what is happening in China may yet offer opportunities to Vietnam. As the labor costs continue to increase in China, more foreign investors now tend to relocate their production bases to Vietnam.
The average wage of Vietnamese workers is $145 a month, which is equal to just 1/3 that of their Chinese counterparts.
DDDT