VietNamNet Bridge – Although he cultivates pepper on only 2.8 hectares, with an average output of 8-12 tons per hectare, Mr. Tran Huu Thang has been awarded the title "The world's best pepper grower" by the World Pepper Association.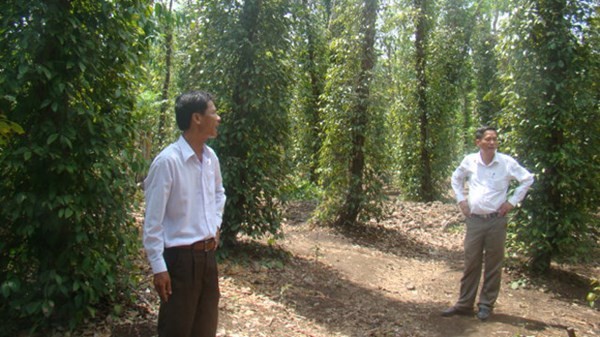 Thang says that compared with other growers in his hometown – the southern province of Dong Nai – his farm is smaller, with only 2.8 hectares. But he is proud that it has the highest productivity, of 8 to 12 tons per hectare, which he achieves consistently.
Thang says that in October 2010, at a time before the pepper harvest season, a group of foreigners who introduced themselves as representatives of the World Pepper Association paid a visit to his pepper farm. They surveyed the garden, took photos and asked Thang about his techniques in growing pepper.
In the next two years, the group kept returning to Thang's garden each October. "They visited my garden for three consecutive years. I just thought that they came here for doing research or something. In 2013, when I was invited to receive the title of best pepper grower in Vietnam, I finally realized what they were doing," Thang recalls.
He says that this title not only brings pride to himself. It is an accolade that will help Vietnam establish a worldwide reputation for its pepper products.
Thang, a native of Hung Yen northern province, was 15 when he followed his brother to settle down in Xuan Loc, Dong Nai, in 1982. He worked as a hired worker until he had saved enough money to buy his own land.
Initially he also planted corn and beans, which brought about low income for his family. In 1995, after seeing many locals growing pepper, he also planted this crop, at first on about 2,000m2.
Pepper is suitable for this land and brings high economic benefits. Gradually Thang developed his pepper farm to its current scale of 2.8 hectares. In the first seasons, the output was only about 2-3 tons per hectares. Then Thang began thinking of ways to increase the productivity.
In 2006, with the support of the local agricultural extension center, Thang was the first farmer in Xuan Loc to invest in an automatic irrigation system in his pepper farm, at a cost of VND50 million ($2,500). Thang mixed pesticide and fertilizer in with the irrigation water. Thanks to this irrigation system, Thang's pepper garden now yields from 8 to 12 tons per hectare.
This irrigation model has been applied by many farmers in Dong Nai and other provinces. And farmers from everywhere flock to Thang's farm to learn from his experience.
The local authorities have proposed that the State awards the Labor Order  to farmer Thang.
Tien Phong