VietNamNet Bridge – Vietnam's agreement to provide 800,000 tons of rice to the Philippines will help raise the domestic price of the product, which should allow farmers to make higher profits, and help regain the Chinese market.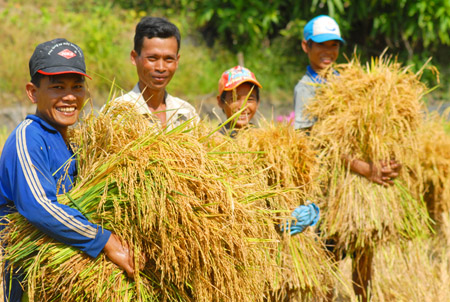 The rice price in An Giang Province moved up VND100 per kilo right after news emerged that Vietnam had won the Philippines contract. Merchants on April 15 were paying rice farmers VND6,500 per kilo, according to Tran Thi Bong, a merchant in Thoai Son District of An Giang Province, who collects rice to sell to export companies.
Thu Hang, a farmer in Dong Thap Province, said she "bubbled over with joy" when hearing the news.
"I had to sell several tons of rice some days ago at a loss of VND5 million, because I heard the exports to China had stalled," she complained. "But now I feel secure about the summer-autumn crop".
According to Nguyen Hung Linh, Chair of the Vietnam Food Association (VFA), the delivery time for the Philippines is between May and August, which coincides with the summer-autumn harvest. Therefore, rice prices will be stable.
Linh has also predicted that the contract will help boost exports to China, which have slowed recently.
VFA has reported that its member companies have exported 1.3 million tons so far this year, 40 percent of which was shipped to China, a sharp decrease of 20 percent in comparison with the same period last year.
Explaining the decline, Nguyen Dinh Bich, a well known trade expert, said the drop in orders from Chinese importers was deliberate. As the domestic supply was profuse, the average market price was being forced downward. The Chinese, expecting prices to fall even further, chose to wait, intending to resume their orders once they sensed that Vietnam's prices had bottomed out.
Therefore, says Bich, with the Philippines order expected to pare down any excess supplies and bolster prices, we can expect a resumption of Chinese orders in the near future.
It also helps that Vietnam is China's top choice for importing rice. The short geographical distance between the two countries makes Vietnamese rice more competitive than that of Thailand, typically $10 lower per ton.
Sharing the same viewpoint, Lam Anh Tuan, Director of Thinh Phat Company Ltd, said that we can expect exports to China to increase significantly.
Ngo Ngoc Yen, Director of the HCM City-based Yen Ngoc Company, which specializes in exporting rice across the border to China, also said that the bulk of rice output will be used to fulfill the contract signed with the Philippines, which means that the supply will not be abundant.
"Chinese importers know this and they will arrive soon," she said.
TBKTSG