VietNamNet Bridge – Le Phong Lan is renowned for her historical documentaries about wars, such as Hiep Dinh Paris 1973 (Paris Peace Accords of 1973) and Mau Than 1968 (Tet Offensive 1968). She talks to Lam Tuyen about her life-long passion.
You have been directing documentaries for 16 years. The war on the Sino-Vietnamese border, which took place 35 years ago, is being widely talked about for a long time. What are you most concerned about? Do you have any plan to produce a film about this war?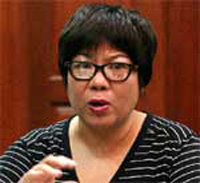 I care about this war as much as the other Vietnamese do, but I haven't had any plan to make a film on this topic. This is a war that the Vietnamese fought for justice and the sacrifices made by the soldiers and compatriots will never be forgotten. Many people of my generation still distinctly remember the war as though it happened just yesterday. The difficulties faced by the country, the songs we used to sing before lessons, the groups of soldiers and military envoys following one another to the border at that time, all of these are distinct memories of the war. However, producing a historical documentary is not simple at all because that period has to be revived with a patriotic heart and the youth's willingness to sacrifice for the country.
The northern border war became an obstacle to the relations between the two countries. If a historical documentary contributes to overcoming this obstacle so that the people of both countries can better understand each other, then I will be willing to work on it.
Whenever you introduce a historical documentary, you tend to use the phrase "the film I make is just a slice" or "the film is like a flash in the portraits of the people who created legends during the wars". What elements of technique, materials, and points of view do the terms "slice" and "flash" depend on?
A topic that I chose contains a huge source of information that needs to be researched and evaluated. I choose a particular historical area, obviously with my own point of view. That's why I call my film just a slice.
One person's point of view can change over time. When you produce films, the information gathering and character selections might lead to the lack of objectiveness and even fairness to history?
When I decided to pursue a career as a documentary director who covers war topics, I was quite perplexed during the initial days.
Over time, as a professional documentary producer, I have always thought that a documentary has to showcase the truth. Not just containing the facts, the work also has to be obviously humane. It is easy to say so, but it is not at all easy to assess the information from various sources, and in order to do so, one needs to have "a cold head".
Before embarking on any new project, I have to equip myself with certain awareness. The process of producing a film is also a process of constantly developing awareness, wherein meeting the witnesses is crucial. In my opinion, the witnesses might not reveal exact information about historical events, but they understand history.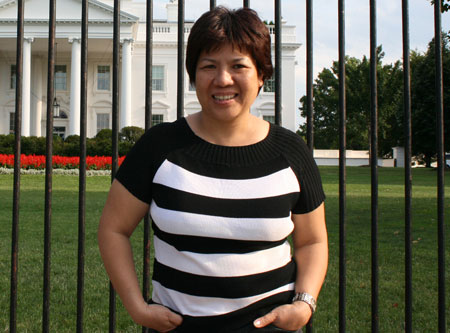 Le Phong Lan is renowned for her historical documentaries about wars. -- File photo
Confusion about information can happen all the time, so I always try to tackle this problem in a sound and scientific manner. Historical events or what the people underwent tend to be complicated and related directly to each other. It does not matter how much is invested, a film cannot sufficiently reflect a huge source of information. Therefore, my films can only reflect the point of view that I consider most truthful, sparkling, and beautiful. The viewers can watch the film according to their opinions, depending on their own awareness.
How to identify objectiveness? What is fairness to history? The definitions of such terms might only lead to endless debates. Let the viewers be the most objective judges.
Have you ever had a wrong view about any historical characters?
Never have I, but I might have not understood them thoroughly. For instance, secret agent Pham Xuan An (a legendary Vietnamese intelligence agent who under cover as a journalist, was invited to closed-door meetings of the US military during the American War) is one person that I haven't completely understood. To me, An had top-notch wisdom, but was shrouded in layers of mystery, which is something that I haven't been able to sufficiently comprehend.
Your documentaries are mostly about the "hidden facts of the wars", or the secret agents, or controversial events like 1968 Tet Offensive. Your works not only revive memories of the past but also contribute to revealing untold stories?
Making films about special task force members or secret agents greatly excites me. Agent An once told me that journalists and secret agents were alike, because both have to analyse, connect events, judge with their own senses, and more importantly, understand the situations properly. To a media product, besides sufficient and correct information, the social responsibility plays a very important role.
So, what is your biggest difficulty?
For instance, I sometimes felt bewildered during the making of the Tet Offensive 1968 documentary. Many people, including my friends and colleagues, thought that it was too risky to "jump into" such a sensitive topic. But my personality is a little bit weird, because the more nervous I feel, the more curious I become. I always wonder how hot the fire is, and whether it is able to burn me up. Such challenges require great meticulousness because mistakes always hide somewhere.
Producing documentaries also have a similar charm. It took me 10 years to make the Tet Offensive 1968 documentary. There are various opinions about this film, which is a normal thing. I welcome any serious opinions to improve and remarks better works. I think that as long as we respect the truth and history, and show a sense of responsibility towards the society, no issue will be sensitive.
When I was making a film about the south-western border war, many people pointed out that it was a sensitive topic that I should not exploit. However, after I completed the film, as you might have watched, every detail shown is truthful. And when there is any problem while making the film, it is because there is too much information to deal with.
What film are you going to produce to commemorate the 40th anniversary of Liberation of South Viet Nam and National Re-unification?
It is certain that I will make a film this year, but it is still a secret. Everyone has his own way of expression with their own discoveries. To me, documentary is my best means to share my discovery with the audience, but it is important that the viewers welcome my films instead of switching over to another channel. How an interesting film is, is another long interesting story. I produce documentaries with all my passion and understanding about films.
Source: VNS