VietNamNet Bridge – Vietnamese water dwellings have become a great source of inspiration for a Danish architect who plans to build small canal towns in his country.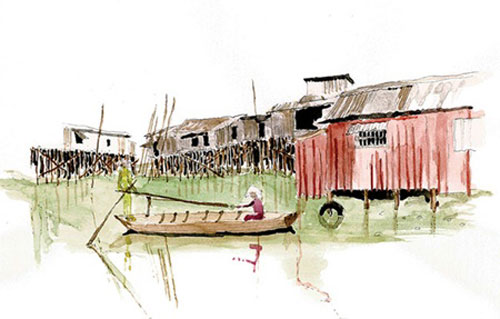 Water world: A drawing by architect Hans Peter Hagens depicting a floating house in Chau Doc near the Cambodian border. Vietnamese water dwellings have become a great source of inspiration for the Danish architect who plans to build small canal towns in his country.
Architect Hans Peter Hagens and anthropologist Louise Sylvest Vestergaard spent almost two months last year studying the typical floating houses in Can Tho City in the Mekong River Delta, Ha Long Bay, and Ninh Binh Province.
As a result of the project, researchers wanted to share their findings through an exhibition with the same name Water Dwellings on Rivers, Lakes and the Sea which has opened in the city.
"Viet Nam is renowned for its local original principles that are used in constructing buildings on water," Hagens said.
"A historical tradition for floating structures has created enduring architectural qualities that can serve as 'eye-openers' for contemporary Western architecture in general.
"This project aims to showcase the quality of these waterways in order to highlight their potential and to develop new environmental building methods for future use in Denmark, Viet Nam and Asia."
The study indicates that Asian water dwellings are based on two main principles: They are either floating structures built on empty oil drums or pontoon-like materials, or they are built on stilts made of bamboo or cajeput (wood from paper bark trees that originated in Australia; the wood can last up to 100 years).
The exhibits are posters that illustrate Vietnamese traditional water dwellings through photos, drawings and detailed descriptions of how the people live there, defining their living and working spaces.
"I find these water dwellings extremely beautiful; that's why I also made drawings of these houses," Hagens explained, pointing to a water colour drawing of typical stilt houses in Chau Doc near the Cambodian border.
"Hundreds of years ago, you did not have many roads in the Mekong River Delta. All trade and business took place on the river, and that's also extremely fascinating for Western people," stated the Danish architect.
According to Hagens, a hundred years ago, farmers in the southern part of Denmark reclaimed land from the waters and turned it into farmland. As a result, he discovered an affinity with the lifestyle of the people in the areas under study, believing theirs was a new way of "living close to nature" – one that could be promoted in Denmark.
"We suggest developing a part of this historical waterway with new houses on the water and channels for sailing, fishing and recreation. That's what I would call Danish Canal Towns or mini Mekong Rivers in Denmark."
Although the main focus dwells on the lifestyle and business activities of people in the Mekong River Delta, Hagens and his anthropologist colleague also visited Ha Long Bay in Quang Ninh Province and Ninh Binh Province, where he felt that tourism was somehow taking over the beautiful landscape.
The project, partly funded by the Danish Embassy's Cultural Development and Exchange Fund, has strong links to the important climate agenda, stressing both the magic and the challenges related to working with water.
"This exhibition combines Vietnamese traditions with the architecture and environmental concepts of tomorrow," remarked Danish ambassador to Viet Nam John Nielsen.
Hagens's art works on Vietnamese water dwellings are on display at the Denmark Embassy in Ha Noi until March 6, at HCM City University of Architecture from today to March 10, and at Manzi Art Space in Ha Noi from March 25 to 30.
The exhibition will also be presented in Denmark in March and April.
Source: VNS