VietNamNet Bridge – Vietnamese animated film studios have been struggling to find their audience after the government decided to stop granting them subsidies.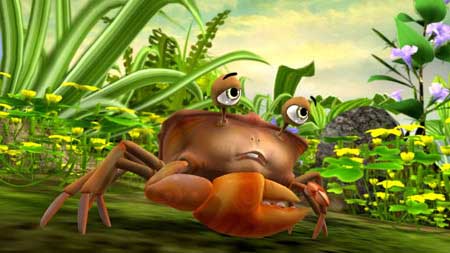 A scene in Cang To Cang Nho (Big claw, small claw)    
While animated films produced in foreign countries have become blockbusters in Vietnam and worldwide, the Vietnamese animation industry seems to be unable to develop and has been ignored. One of the main points that critics continually bring up is the matter of story line.
Made-in-Vietnam animation films have been said to be heavy on the philosophical side, with already similar characters and simple dialogue. As a result, they were out of favour when both the Cartoon Network and Disney Channel appeared.
According to writer Trinh Thanh Nha, this failure was caused by scriptwriters who do not understand the interests of children. "In order to create a good cartoon, we need to get some feedback from children," she said.
Dang Vu Thao, Chairman of Vietnam Animated Cartoon Film Studio, said, "It's like mission impossible to make a decent Vietnamese animation film that can impress young audiences. Even with modern equipment, we still lack experienced human resources. We are a big studio, but we only create 10 movies a year, and all of 10 movies only last for a total of 200 minutes. I think our artists lack opportunities for training and experience."
He went on to say that with low investment, it takes eight to twelve months to create a 10 minute film.
On the other hand, many animated movies have been granted awards at domestic film festivals. For example, Cang To Cang Nho (Big claw, small claw), Tran Quoc Toan and Bu Nhin Rom (Scarecrow) won the Golden Kite 2012, while Bo Vang (The Yellow Bull) won special prize at 2nd Hanoi International Films Festival. Still, these films are not shown widely either at cinemas or on television.
Compared to other movies, the length of Vietnamese animated films remains short, usually only around 15 minutes, making them difficult to be shown in cinemas.
"Since we have been cut off from government subsidies, we don't know where we can air our films," Thao said, adding that, "The cinemas don't like animated films because kids don't have money."
However, head of National Cinema Centre Nguyen Danh Duong disagreed with Thao, saying that animated films could be appreciated by people of all ages. "In fact, many animated films have made large profits at the box office for both cinemas and producers. But it is highly likely that the doors to the cinemas will remain shut to producers if they continue to pursuit short animated movies without care for audience taste," he said.
To find outlets for their films, the studio tried to release the DVDs but they were pirated almost immediately. Recently, they have made plans to cooperate with the three largest mobile services providers, post their films on the internet or invest in opening cinemas.
DTriNews/DanViet