Photo festival features Mekong Delta
A photographic festival covering different aspects of life in the Mekong Delta is underway in the southernmost province of Ca Mau.
They include the first-prize colour "A dance to celebrate Cham Cultural Day" by Vo Trung Kien in An Giang province and the gold prize his black-and-white photo entitled "Competition" from Duong Van Nhi in Bac Lieu province.
On display for September 4-10 are 167 out of 2,419 colour and black-and-white photos sent by 385 artists from 13 cities and provinces in the region.
This year's festival is the twenty-eighth of its kind, co-hosted by the Vietnam Association of Photographic Artists and the Literature and Art Association. The number of female artists accounts for nearly 10% of the participating artists.
The photographic festival will also take place in Dong Thap province later.
Mid-autumn festival around the corner
A wide range of activities to celebrate the mid-autumn festival will be held in the Old Quarter from September 13-19.
The events will enable tourists to see the most popular festival for Vietnamese children. Children will be able to join in and play folk games.
Artisans in the Old Quarter and from nearby craft villages will display their skills in making traditional toys, paper figurines and lanterns at Kim Ngan Temple (42 Hang Bac Street), Dong Lac Temple (38 Hang Dao Street) and an old heritage house at 87 Ma May Street.
Located near Hoan Kiem (Sword) Lake, the Old Quarter retains the original street layout and some of the architecture of ancient Ha Noi. The area is famous for its small streets where craftsmen and merchants specialise in a particular trade.
The street names nowadays still reflect these speciality, although few of them still deal exclusively in their original goods.
Veteran musician announces resignation
Composer Nguyen Anh 9, 74, who has made great contributions to the Vietnamese music scene since the 1970s, has decided to leave the stage.
The musician's decision has stirred up public concern as it came after controversy erupted over his comments about the performances of several top singers, which in turn brought a rude reply from one of those singers.
The old musician made the resignation announcement at a press conference to introduce singer Quang Ha's 10th anniversary live show celebrating his career, which took place in HCM City on September 4.
He will perform on stage for the last time during Quang Ha's show in HCM City on September 14 and in Hanoi on September 27.
He said that he wants to resign in order to take better care of his health.
"I'll go back to my old piano and I'll feel happy there," the talented composer said.
He also said he would be willing to take part in music performances for public interests and charitable programmes.
"I decided to participate in Quang Ha's show because I wanted to support him, nevertheless, that doesn't mean I  appreciate his singing voice more than anyone else's'. He needs to do much to improve his singing voice," the composer commented.
He added that those who want to sing well should sing with their heart instead of their head.
Mobile photo exhibition on seas, islands in Dong Nai province
On September 4, Dong Nai province's Tran Bien Temple of Literature started a mobile photography exhibition, themed "Dong Nai towards seas and islands".
On show are more than 100 photos on Truong Sa and Hoang Sa archipelagos as well as activities of Dong Nai people on the theme. Pride of place was given to four old maps which confirm Vietnam 's sovereignty over the two archipelagos.
The exhibition will remain open until October 10 at various places in the province.-
HCMC hosts first int'l theatre schools festival
The first international theatre schools festival opened in Ho Chi Minh City on September 5.
Present at the opening ceremony were 120 representatives and students from 15 professional theatre schools throughout Asia-Pacific.
Deputy Minister of Culture, Sports and Tourism Dang Thi Bich Lien said that the six-day festival aims to create a chance for participants to share experience in developing regional theatrical arts.
The drama "Acting alone" (Dien kich mot minh) by author Le Duy Hanh was one of ten plays selected by the organising board to present to the audiences on the occasion.
The festival was sponsored by the Ministry of Culture, Sports and Tourism, the HCM City Stage Artists Association, and the HCM City Dance School and Theatre.
Vietnam wins prizes at China – ASEAN theatre festival
The Vietnam Drama Theatre has won three prizes at the 2013 China – ASEAN Theatre Festival in Nanning city, Guangxi Zhuang province, China.
The theatre performed a play entitled 'Cai lao hoan dong' (Rejuvenation) which has received the 'Most Favourite Song' award. The Meritorious Artists Tuan Hai and Le Ngoc have also been presented the 'Most Favourite Artists' awards.
The play, which is based on a folk tale, tells about an ingenious poor couple who trick a greedy and dishonest district mandarin.
At a forum on the occasion of the festival, the Director of the Vietnam Drama Theatre Nguyen The Vinh introduced to international friends the 60-year history of the theatre and the stage's role and impact on the social life in Vietnam.
The 2013 China – ASEAN Theatre Festival, which took place from August 28 to September 3, drew the participation of 15 stage delegations from China and five ASEAN countries including Indonesia, Thailand, Singapore, Malaysia and Vietnam.
Photo contest launched in response to World Food Day
The UN agency FAO in Vietnam has launched its photo contest on 'Sustainable Food Systems for Better Life of Vietnam People', in response to the 2013 World Food Day (October 16).
The contest is open to everyone, and applicants' should submit their personal information including name, address, occupation, and contact number, together with entries via email to FAO at diep.vungoc@fao.org by September 30.
Photos should be digital, in JPG format with a minimum of 2MB file size and 2,000 pixels. Each participant should submit at least three photos and not more than ten photos and each being clearly marked with captions.
Three winners are to be selected and announced at the World Food Day 2013 Ceremony on October 16.
Training course on making plans and projects for relics preservation
On September 4, in Ha Long city, Quang Ninh provincial Department of Culture, Sports and Tourism held a training course on making plans and projects for preserving and restoring relics.
Earlier, the Prime Minister promulgated Decree 70/NĐ- CP dated September 18 2012 regulating authorities, procedures on making and approving plans on preserving and restoring cultural and historical relics, and beautiful landscapes. The Ministry of Culture, Sports and Tourism issued Circular 18/2012/TT- BVHTTDL dated December 28, 2012, regulating details in implementing several regulations on preserving and restoring relics.
During the training course, Le Thanh Vinh, head of the Institute of Relics Preservation under the Ministry of Culture, Sports and Tourism, provided basic information about Decree 70 and Circular 18.
There are many cultural and historical relics and famous beautiful landscapes in Quang Ninh province. The province effectively promoted the value of relics in local socio-economic development. Plans and projects on relic preservation in the province must follow legal regulations on building cultural heritages, and international conventions of which Vietnam is a member; and must be suitable with socio-economic development objectives, ensuring national security and defence.
Hanoi makes plan for preserving ancient villas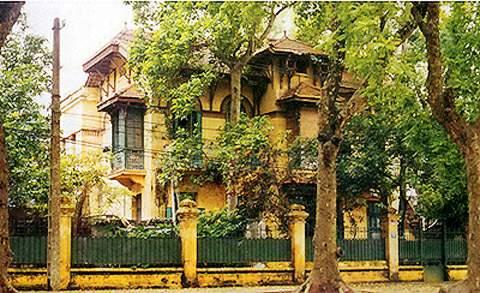 Vice chairman of Hanoi city People's Committee Vu Hong Khanh asked the departments of construction, planning and architecture, and culture, sport and tourism to appraise villas built before 1954 for consideration for the list of preservation.
According to the statistics of Hanoi Department of Construction, there are 1,586 villas in the city built during the French domination. There are 562 private villas, 1,024 state villas, and 42 villas in Ba Dinh political centre which are not allowed to be privatized.
Most of the villas have been downgraded. Hundreds of villas enlarged, some being deformed in the process. State villas are being used by hundreds of agencies and enterprises./.
Mid-autumn festival 2013 set for mid September in Hanoi
Diverse activities during the mid-autumn festival 2013 will take place at Giang Vo Exhibition Centre at 148 Giang Vo street in Hanoi from September 14-18.
The festival aims to bring Vietnamese products to Vietnamese consumers and international tourists.
Activities will include dragon performances, folk and cultural activities, folk games, rice-cooking contest, instructions on how to make moon cakes and toys, and paper fashion shows.
Visitors to the festival will have the opportunity to enjoy special foods from regions nationwide, and watch handmade items being created.
Viet Nam – S Korea to produce TV series
Viet Nam Television and a South Korean television group, CJ E&M Corporation, yesterday signed an agreement to produce a 30 episode television series on a fifty-fifty basis.
The series will focus on the lives of Vietnamese students in South Korean. Shooting will be done in both countries.
The two sides will contribute financial capital in the ratio of 50:50.
The series will be broadcast in autumn next year.