VietNamNet Bridge – Thirty works by Phu Nam are on display at Tu Do Gallery downtown at solo exhibition 'Homeland,' taking visitors on a journey to discover the landscapes of the water lands of the Mekong Delta.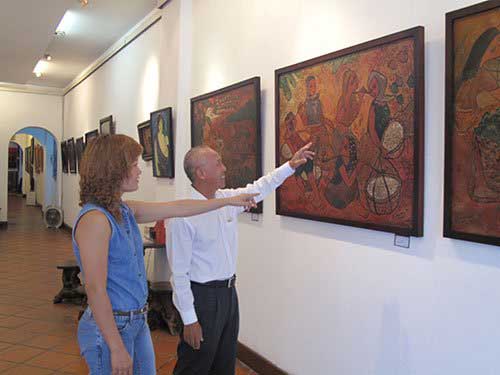 Dang Hai Son (L), owner of Tu Do Gallery, talks about paintings at Phu Nam's solo exhibition.
Nam uses expressionism style with materials of oil on canvas and lacquer to show off his passion and talent. The way that Nam paints is very open, liberal and emotional like impromptu memories and nostalgia emerged in his mind, provoking visitors to imagine a child drawing to reflect their homesickness in colorful paper. Many characters in Nam's painting are Khmer people who live in his home province of Vinh Long.
Along the art journey, Nam will take visitors to countryside markets in bustling ambiance by many sellers of rustic countryside products. Then, in other paintings, visitors can meet local people in varied daily activities such as kids playing the flute, grazing buffaloes, some young girls singing along with birds or playing some folk games under shaded trees.
Visitors can also learn more about Khmer culture in Ok Om Bok Festival and boat race. Sceneries of farmers on the rice fields, a stunning beach, peaceful trails and thatches will be on view. Maternal love and strength of women are also presented in some portraits.
The show runs until August 30 at the gallery, 53 Ho Tung Mau Street in District 1.
Source: SGT