VietNamNet Bridge - After salvaging 4,000 artifacts from the ancient wreck in Binh Chau, Quang Ngai province, experts and archaeologists have discovered many precious artifacts around the ship.
Quang Ngai: Search for other wrecks around the 700-year-old ship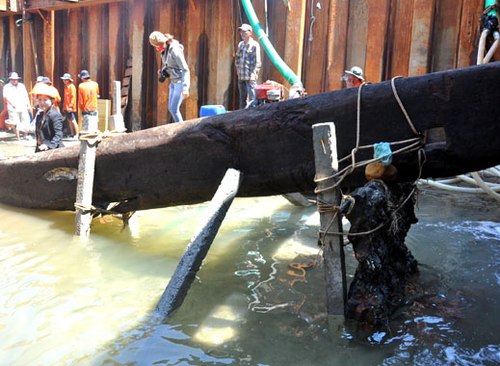 The board of wood of 5.6 m long, more than 80 cm thick found last week.
Mr. Doan Sung, adviser of Doan Anh Duong Co., Ltd, said this morning that after the completion of the first excavation, experts and divers expanded the exploration and found dozens of precious objects around the ship.
"Last week divers found 20 bowls and plates with exquisite patterns and a brass lamp. Specifically, we salvaged a board of wood of 5.6 m long, more than 80 cm thick drifting from the old ship," Sung said.
Quang Ngai province has assigned Doan Anh Duong Co. to expand underwater exploration and survey of cultural heritage in the waters of Binh Chau commune. If discovering more shipwrecks, the company will make excavation projects to preserve national heritage before the Dung Quat Port 2 is built in this area.
Dr. Nguyen Viet, Director of the Center of Southeast Asian Pre-history, said the newly-discovered board of wood may have drifted from the 700-year-old ship's bow. Of the six ancient vessels found in the waters of Vietnam, the ship in Binh Chau is the most intact. If the boat is restored, it will be 25 meters long, 8 meters wide, featuring the unique feature of 13th-century merchant ships, which is very rare in the world.
Currently, the 700-year-old wreck is being preserved in status quo in Binh Chau to serve tourists.
The experts and archaeologists are excavating the 300 m2 area around the vessel. The task is expected to end on July 15. After that, Doan Anh Duong Company will expand the survey to find other ancient ships in Binh Chau.
T. Van