VietNamNet Bridge – Mrs. Le Thi Nhung, 74, moved the audience of the semi-final round in the "Evergreen Singing" contest for amateur singers aged 35 and up, by her emotive voice to win a ticket to the finale.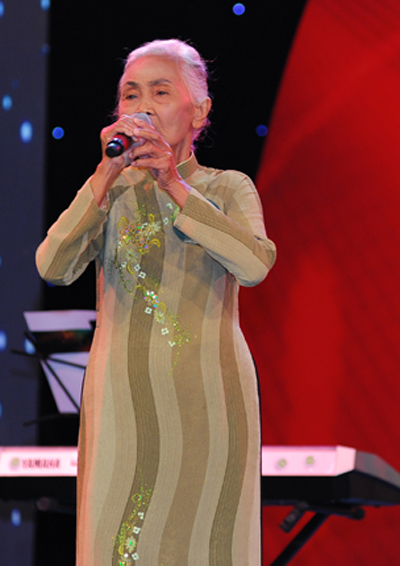 Mrs. Le Thi Nhung, 74.

Mrs. Nhung, the oldest competitor, was warmly applauded when she sang "Dem Dong" (Winter Night), by late songwriter, Nguyen Van Thuong.
The audience once again applauded when her name was called as a finalist.
"If I fail the competition, I will not be sad. If I pass the competition, I will dare not to be so happy, because I suffer from high blood pleasure," said Mrs. Nhung, before the finalists were announced.
Contestant Cao Nguyet Hao, 69, said: "This game is a multicolor flower garden. Everybody sings very well. It is out my fancy, especially, when I saw the woman of over 70 raising her voice".
Singer Cam Van, a member of the judging panel, commented: "The quality of singing voices of Evergreen Singing contest has surprised the jury. It is a very interesting experience for me this time".
Along with Mrs. Nhung, nine others will enter the final round on April 23, 27 and May 2.
The jury will select the three best singers for the final night on May 11, at the White Palace in HCM City.
This is the first singing competition for middle-aged and elderly people in Vietnam. The event's message is that anyone can maintain their youth if they have music in their life.
Competitors are divided into two groups for the age of 35 to 50, and from 51 upwards. The qualifying round took place from April 7-10 to choose 60 competitors for the semi-finals. The top ten competitors were selected from the semi-finals (April 15-16) for the final round.
The organizing board will present two first prizes (VND20 million - $1000), two second prizes (VND15 million), and two third prizes (VND10 million), as well as prizes for the eldest contestant in the semi-final round, the audience's choice, and for the supporters who encouraged the two first prize winners to participate in the competition.
In addition, the ten finalists will be assisted to record a five-song album each.
The final round will be aired live at 8.30 pm on HTV9.
PV