VietNamNet Bridge – A new circus act entitled A O (Ah Oh) reflecting on the daily lives of Vietnamese southern villages has hit stages in HCM City, bringing an exciting new cultural product for locals and tourists alike.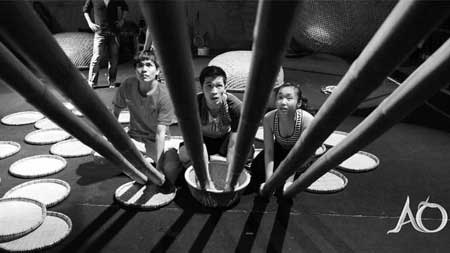 Looking up: A scene in the new circus act titled A O (Ah Oh) reflecting the daily lives of southern Vietnamese villages. — Photo courtesy Lune Company
Depicting the most familiar images of the southern rural areas with bamboo as the main props, the piece is expected to help audiences, especially foreigners, understand the Vietnamese culture.
Deputy Prime Minister Nguyen Thien Nhan enjoyed the circus act and said he believed that foreign audiences will be able to better embrace Vietnamese traditions and people through the piece.
"The piece shows the desire of artists to introduce their local culture to the world," he said, "I'm happy to see such a unique artwork."
The piece was directed by a group of artists – Nguyen Lan, Tuan Le and Nguyen Nhat Ly – who previously enjoyed success with Lang Toi (My Village), the first Vietnamese circus act embellished with light, music, installation arts and human drama. No animals are used in the act. Established in 2003, Lang Toi has toured internationally, visiting countries such as France, Belgium, China and South Korea.
While Lang Toi featured lives in the northern rural areas, A O focuses on southern agriculture. The piece was so named to capture the melodic nature of southern folk songs.
The five-member orchestra will create musical background based on the movements of 18 performers.
"Their performances aren't just limited to following the script," said director Le.
"Whenever the piece is performed, all artists portray different feelings and expressions to bring audiences different experiences," he said.
Music director Ly co-operated with lip lute artist Thanh Long and don ca tai tu (amateur music) artist Thanh Hai to bring an impressive sound to the performance.
"Many foreign audiences applauded when the melody of Schubert's Serenade was combined with southern folk songs at the start of the piece," Ly said.
"We want to make a mixture between Vietnamese and foreign music that helps all audiences feel something touch their souls."
On the occasion of Tet (Lunar New Year), the piece will be presented on 6pm from now to February 22 with favourable price at HCM City Opera House. Then, it will be staged from Tuesdays to Fridays at Quan Doi (Army) Theatre, HCM City, to serve tourists.
Source: VNS