VietNamNet Bridge - Fans have called for boycotting two contestants of The Voice 2012, Bao Anh and Bui Anh Tuan, for promoting a chat application named Wechat, which uses China's illegal U-shaped map.
"U-shaped line passport" to make China isolated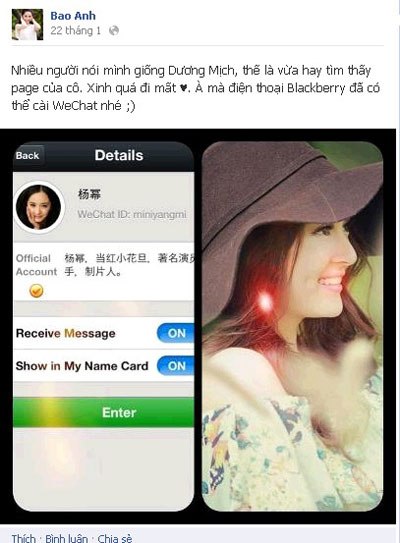 The status on Bao Anh's personal page.
Last weekend, Bui Anh Tuan wrote on his personal page: "Let's download your wechat quickly! Tuan is to publish wechat ID to chat with and sing for you."
Earlier, Bao Anh wrote on her personal page: "Many people say I look like Yang Mi (a Chinese actress). I've just found out her personal website. By the way, my cell phone can install wechat you."
The two young singers have been strongly criticized by fans for inadvertently promoting the Chinese chat application that uses China's illegal U-shaped map.
In the Vietnamese version of wechat, this application uses the map which does not show clearly that the Hoang Sa (Paracel) and Truong Sa (Spratly) Islands belong to Vietnam. In the Chinese version, called Weixin, the map with a U-shaped line is used.
Some people commented on online forums that promoting this software is like betraying the country and it's unacceptable. Some said that the two young singers made accidentally stupid action.
Facing the reaction of public opinion, Bui Anh Tuan wrote on his facebook: "My plane has just landed at the Noi Bai Airport. I received many phone calls from my friends and relatives about the bad news. Feeling sad and a little annoying! Actually, I did not post the line. Someone logged in and posted it and I did not know about it. I'm sorry so much!"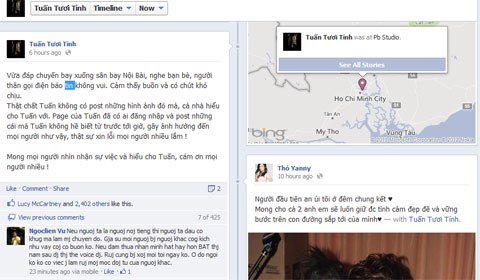 Bui Anh Tuan's apology.
Wechat is an application in the OTT (Over the Top content) category, developed by Tencent, based in Shenzhen, China, which help send text and make call for free.
According to the Guardian, wechat helps the Chinese government monitor users and censor information on a global scale by filtering banned keywords. There are more than 1 million wechat users in Vietnam.
Earlier, China printed the U-shaped map on their e-passports. Immediately, Vietnam and many other countries protested the passport. Vietnam's Customs Agency has refused to stamp the passport and issued separate visas to Chinese citizens for entry into Vietnam. The U.S. State Department also stated to not recognize the passport with the U-shaped line.
Compiled by S. Tung