VietNamNet Bridge – Many valuable artefacts from the Cham culture have been found in the southern central province of Binh Thuan. The new discoveries are important for ongoing research on the ancient culture, according to Nguyen Xuan Ly, director of the provincial museum.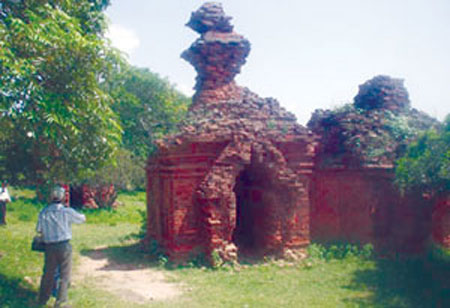 Digging up the past: Researchers are working on vestiges of two newly found walls near Po Tam Tower in Binh Thuan Province. — Photo courtesy the provincial museum
Bronze Age artefacts found in HCM City
Many artefacts dating from 2,500 to 3,500 years ago were found in Hoi Son Pagoda, HCM City after an excavation early this month.
Researchers from the Archaeology Research Centre (part of the Southern Institute of Sustainable Development) found many stone tools and pottery.
"This is an important relic we have been seeking for a long time," said Nguyen Khanh Trung Kien, vice director of the centre. "Two previous excavations were carried out in 1977 and 1987."
Since there is a "National heritage" pagoda on the archaeological site, however, the excavation had to be limited.
"We were only allowed to work on an area of 300sq.m," Kien said.
When the excavation is completed, the objects will be analysed to assess the relationship between the archaeological sites at Hoi Son Pagoda and other Places.
The Champa Kingdom reigned over the central coast of modern-day Viet Nam between the 4th and 13th centuries.

Remnants of its culture include towers, folk songs and dances and traditional festivals.

Recently, two ancient walls were discovered by archaeologists working on the preservation of the Po Tam Tower area in Tuy Phong District, the earliest tower in the central region, ranked a national heritage in 1996.

Po Tam heritage site has six towers: two already collapsed and four have been seriously downgraded.

Researchers believe that the two 1.9m-high walls were built in the 8th century, at the same time as towers found in the rest of the area. Built out of brick, with a stone foundation, they surround a path to one of the two collapsed towers.

The discovery provided researchers with new insights into the ancient civilisation, said archaeologist Le Dinh Phung from the Viet Nam Archaeology Association.

"Before, we thought the six towers in this area were different from others because their main gates face south instead of east like all the other Cham towers we've found in Viet Nam," Phung said. "This discovery led us to conclude that this is the main tower in the site, and the constructions still conform to the Cham culture's religion and tradition, which was adapted from the Champa Kingdom," he said.

The archaeologist hypothesised that the collapsed tower could be the main building in the area, while the parts previously discovered were surrounding buildings. An upcoming excavation by researchers from the Binh Thuan provincial Museum and the Archaeology Association will shed more light on this question, he said.

Ly, the provincial museum director, said fishermen had donated nearly 300 artefacts dating from the 15th century to the museum.

Many vestiges of the Sa Huynh Culture (1000 BC and AD 200) found in the coastal districts of Ham Thuan Bac and Ham Thuan Nam proved that many different cultures existed in the province, said Nguyen Van Cuong, director of the National Museum of Vietnamese History.

However, he expressed concern that illegal mining may destroy these precious artefacts.

Source: VNS