VietNamNet Bridge – Related to the "kissing" scandal between HCM City's singer Dam Vinh Hung and two Buddhist monks, the Inspectorate of the Ministry of Culture, Sports and Tourism summoned the singer to Hanoi and decided to impose VND5 million ($250) fine on him.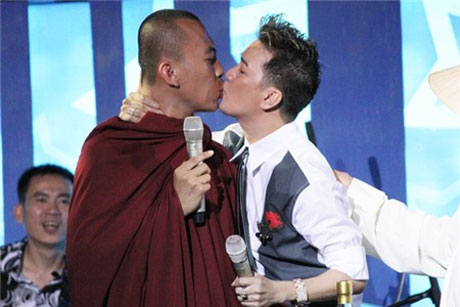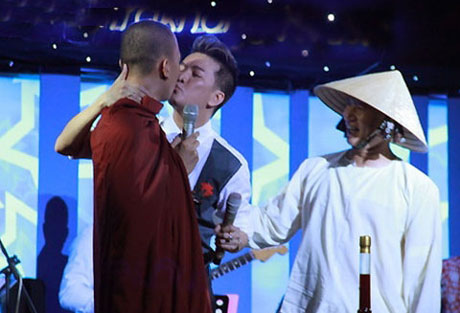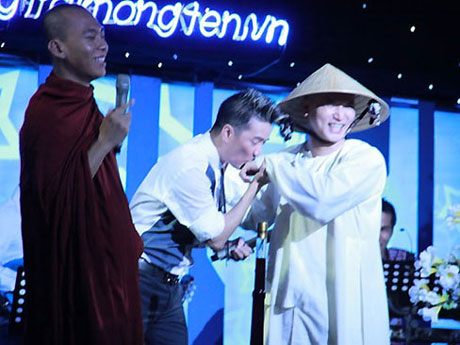 Earlier, Mr Thanh Nhan of the Performing Arts Department told VietNamNet that Dam Vinh Hung took advantage of communicating with the audience to have uncultured behaviors. According to the current rules, the singer might be subject to a fine of between VND2-VND5 million.
On November 4, in a charity show in Ho Chi Minh City, Dam Vinh Hung offered a rare wine bottle for auction. Before the auction, he promised to kiss the auction winner.  
The winners were two Buddhist monks, who bought the bottle for VND55 million ($2,500). Incidentally, Dam Vinh Hung did not hesitate to kiss the younger monk on his lips and the older monk on his hand.
The same-sex kisses between the male singer and the monk made the witness stunned. The pictures "grabbing" the kisses have been quickly spread on the Internet and received harsh comments. Many people said that this image is so offensive, especially in an Asian country as Vietnam. It is harder to accept the same-sex kiss of a monk.
As soon as the case was reported by the local media, the two monks were identified. They were also penalized: being kept in for three months.
Although the two monks got pretty strict punishment, the public wave has not yet subsided. Many people said singer Dam Vinh Hung must be punished for putting a bad image to the public.
Anh Ngoc