VietNamNet Bridge – Different generations of performers gathered to celebrate the Day of Vietnamese Stage during a function in Ha Noi yesterday, Sept 27.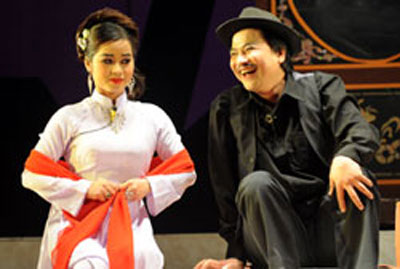 A scene from the traditional opera Quan Lon Ve Lang
performed by the Ha Noi Cheo Theatre.
The event attracted hundreds of Vietnamese artists, directors, and scriptwriters from many forms of performance, including cheo (traditional opera), tuong (classical drama), cai luong (reformed opera), folk drama, spoken drama, puppetry and circus.
Hosted by the Viet Nam Stage Artists' Association (VNSAA), the event aimed to strengthen collaboration among artists from different genres, thus developing the art form to reflect the rich national culture.
Therefore, to support its members, several activities have been organised by the VNSAA over past years, including nationwide writing camps and annual script writing contests.
The association also hosted an international experimental theatre festival last year which attracted dozens of domestic and international art troupes.
According to VNSAA president Le Tien Tho, the international festival was not only to expand creative exchange among the artists, but also to give the Vietnamese stage a promotional boost.
During the event yesterday, the play Nhung Mat Nguoi Thap Thoang (Looming Faces) by Xuan Duc from Quang Tri Province was granted first prize in the script writing contest hosted by the VNSAA.
Huyet Lenh (Bloody Order) by Pham Dung from HCM City and Giot Sua Cua Nguoi (Human Milk Drop) by Nguyen Khac Phuc from Ha Noi received the second and third prizes, respectively.
In 2011 VNSAA Awards were granted to the traditional opera Quan Lon Ve Lang (High-ranking Mandarin Visits Village) performed by the Ha Noi Cheo Theatre and the reformed opera Da Chien Pha Song Ngan (Fierce Battle on Ngan River) performed by the HCM City-based Tran Huu Trang Cai Luong Theatre.
Three other traditional opera artists were also given awards.
Veteran writer and script-writer Hoc Phi has been honoured for his significant contribution to the development of theatre in Viet Nam.
Phi, who celebrated his 100th birthday on Wednesday, was praised by General Secretary Nguyen Phu Trong and Deputy Prime Minister Nguyen Thien Nhan as well as many of his colleagues and fans in Ha Noi.
VietNamNet/VNS