VietNamNet Bridge – Artists inspired by the country's islands and territorial waters show their work at an exhibition entitled Nation's Border, Sea and Islands, which has opened in Ha Noi.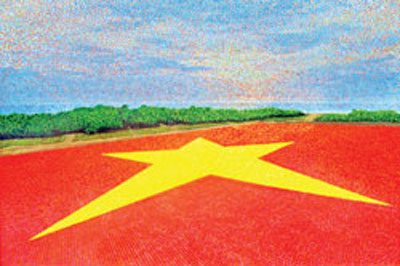 The mosaic La Co (National Flag) copies an artwork made from tens of thousands

of coloured ceramic tiles on Truong Sa Lon Island.
The exhibition showcases 160 paintings and sculptures made from various materials, the result of creation camps and field trips to various coastal regions and islands.
"Organising an exhibition is a meaningful activity to encourage coast guards and residents living at border regions to contribute to protecting the nation's sovereignty," said Pham Kim Binh, chairwoman of the Ha Noi Fine Arts Association. "I appreciated the quality of the artworks displayed at the exhibition."
"Through them, the artists expressed their patriotism and responsibility to the nation," she said.
Painter Thu Thuy, who worked on the Ceramic Road in Ha Noi, presented a painting of the national flag she made from pottery in Truong Sa Lon Island in the Truong Sa (Spratly Archipelago) which was inaugurated in June.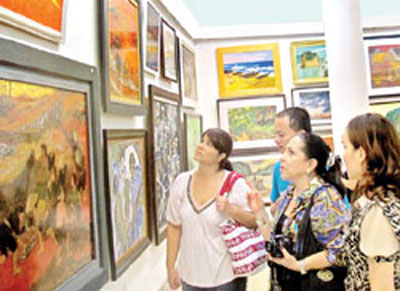 She spent one year creating the flag at Bat Trang Village, Ha Noi. The process involved bringing 300,000 ceramic pieces to the island and combining them to create the 310sq.m flag.
Painter Nguyen Doan Son, painter of a 7m-by-3m oil on canvas Ha Noi – Chien Luy Va Hoa (Ha Noi – Barricades and Flowers), only displayed a small sketch named Binh Minh o Truong Sa (Sunrise in the Spratlys).
"I had a field trip to 12 islands of the archipelago and had only two hours on each island, so I only had time to portray Truong Sa through sketches," Son said.
"On this trip, I discovered an emotional connection to Truong Sa and this exhibition is only the beginning of my work there," he said. "I will display bigger paintings of Truong Sa in the future."
The exhibition will run until August 28 at the Exhibition House, 45 Trang Tien Street, Ha Noi.
VietNamNet/VNS