VietNamNet Bridge – A painting exhibition featuring more than 40 art works by 22 artists from 11 Asian countries is now open in downtown Hanoi.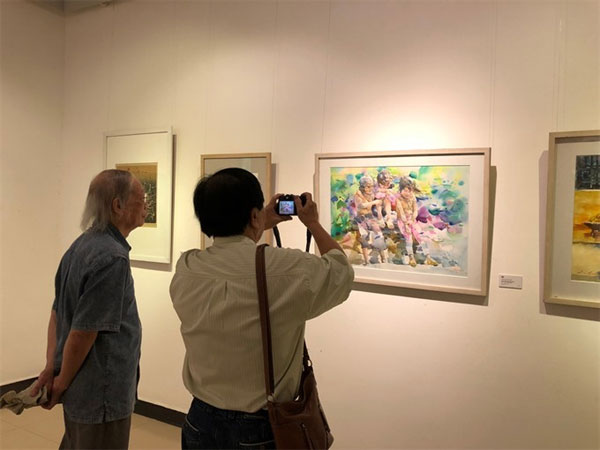 Check it out: Audiences look at paintings at the exhibition. VNS Photos Le Huong
Part of the paintings were created during a five-day camp in the northern province of Ninh Binh, which is an annual exchange event hosted by the Ministry of Culture, Sports and Tourism.
The rest are old paintings that the artists donated to the event. The artists are from Asian countries including China, India, Japan, South Korea, Singapore, and the Philippines.
"In recent years, Vietnamese artists have been more and more active in exchanging with international colleagues," said Vi Kien Thanh, director of the ministry's Department for Exhibition, Fine Arts and Photography. "They have joined more events overseas as well as hosted more camps in Vietnam to invite foreign artists."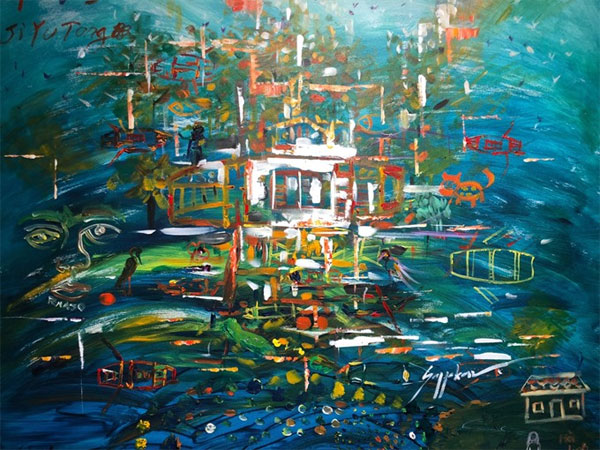 Local touch: A painting by artist Lampu Kansanoh from Thailand with the contributions of locals in Ninh Binh Province.
"We chose Ninh Binh as the host location because of the ancient imperial citadel, various beautiful landscapes and it is convenient to travel from Hanoi," said culture deputy minister Vuong Duy Bien. "The camp aims to not only enhance the understanding and friendship among artists but also promote Vietnam's tourism potential."
Vietnamese painter Nguyen Nghia Phuong, who has joined various other international camps overseas, praised the event.
"Each time joining international artists I have different feelings and experiences," he said. "Yet this is the first time I have visited so many relic sites and landscapes in Ninh Binh. This camp should be organised every year to promote Vietnam's image and role of Vietnamese artists in Asia and in the world."
Joining the camp for second time, artists Chua Cheng Koon and Chow Chin Chuan said Vietnam inspires them.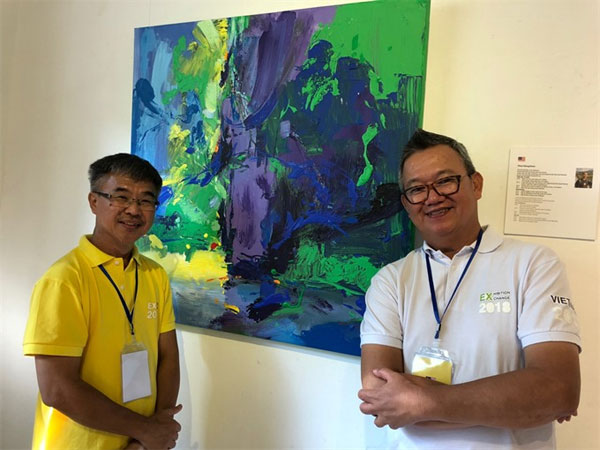 International friends: Artists Chua Cheng Koon (left) and Chow Chin Chuan from Malaysia pose for a photo by Koon's painting on his Ninh Binh impression.
"Last time we went to Sa Pa, which is very cool with lots of colours of different ethnic groups," Koon told Viet Nam News. "But Ninh Binh this time is quite different. At the camp, we share techniques and views on the same things. Everybody may come up with different topics on the same scene. Some may focus on faces, some on landscapes."
Indian artist Ruchika Wason Singh is interested in Vietnamese do (poonah) paper material.
She did a two-month research project in Vietnam last year on the material.
"Do paper is a new challenge to me," she said. "With do, I already have one colour as the paper is not totally white. The material works well with Chinese ink, which I always use.
"Do's surface is not smooth. It's a little rough, so a line I draw out is different than what I want. I have to learn how to draw without changing do. In that way, I learn a new technique for life."
As this camp was too short, Singh could not finish her painting on do paper. She has many paintings on the material back home and intends to open an exhibition featuring her paintings on do paper soon in India.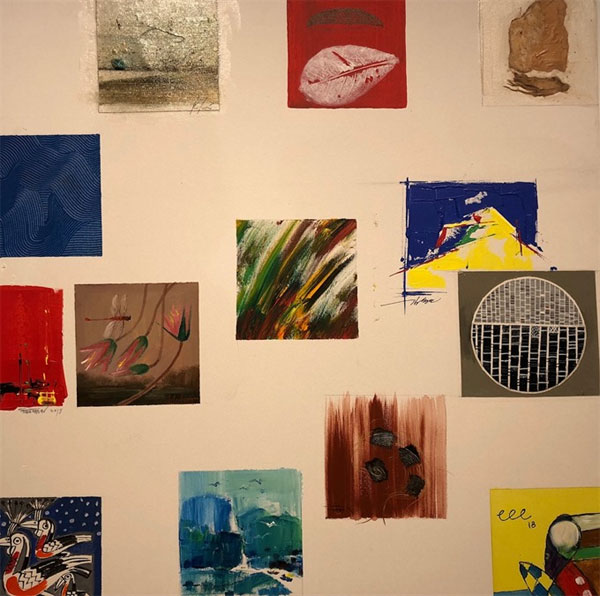 In it together: A painting drawn by 11 artists at the camp.
Lampu Kansanoh from Thailand thought of a way to capture local community spirit in his paintings.
He encouraged some children and adults in Ninh Binh to draw in one of his paintings.
"The painting is touching to see as it bears the relationship between Thailand and Vietnam," Thai Embassy's Counsellor Chotikorn Limratana told Viet Nam News.
"The camp is a good effort by the Vietnamese culture ministry as it connects people in Asian countries at people-to-people level."
The exhibition will run at Exhibition House 29 Hang Bai Street, Hanoi until September 3. 
Source: VNS