VietNamNet Bridge – The ASEAN Family Day was held on Saturday in Hanoi with a range of fun activities to enhance cultural exchange and understanding among ASEAN member states.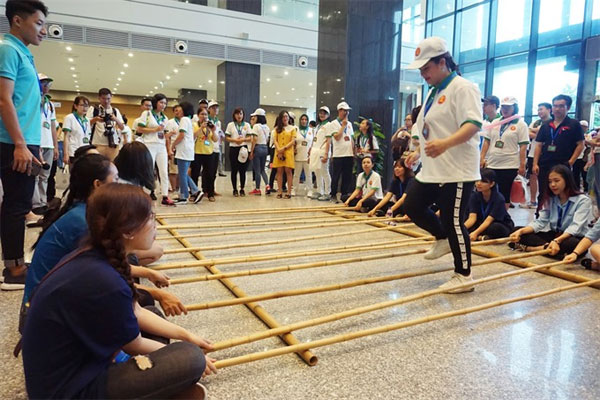 Hop to it: A participant joins múa sạp, a traditional dance of Viet Nam, at the ASEAN Family Day, held on Saturday in Hanoi. — VNS Photos Hong Van
The day was part of a series of events to celebrate the 51st anniversary of ASEAN and third anniversary of ASEAN Community (AC), held by the Viet Nam Ministry of Foreign Affairs (MoFA).
"With more than 50 years of development, we have gained great achievements in establishing the ASEAN Community, however, we also need to pay more attention to enhancing culture and people-to-people exchange among ASEAN countries," said Deputy Minister of Foreign Affairs Nguyen Quoc Dung.
"ASEAN Family Day aims to promote the culture and tradition of ASEAN countries. This is an opportunity for the members to meet up and have fun outside of work. I hope the event will help to strengthen unity and promote the ASEAN community spirit," he added.
More than 200 participants, including ASEAN ambassadors in Hanoi and their families as well as staff members of MoFA, enjoyed a 10-km bicycle ride together from 1 Ton That Dam Street to 2 Le Quang Dao Street, MoFA's new office.
The event also introduced traditional folk games and dances of Vietnam. Participants also enjoyed Vietnamese food like pho (noodle soup with beef/chicken), nem (spring roll) and chicken salad.
The Malaysian Embassy introduced their games like congkak (filling the wooden board) and batu seremban (tossing the stones) while Brunei's Embassy offered festival goers the chance to understand more about the meaning of their national flag.
The Honourary Chair of ASEAN Woman's Circle in Hanoi, Nguyen Nguyet Nga, said that she hoped the young generation of ASEAN citizens would actively study, cultivate and promote the spirit of unity, self-reliance and creativity in order to build a stronger ASEAN Community in the future.
Brunei Darussalam Ambassador to Vietnam Pengiran Sahari Pengiran Salleh said, "This is always an event that await every year because this is the time when ASEAN friends gather, meet up and experience cultural activities. It is a meaningful way to emphasise our shared identity and togetherness."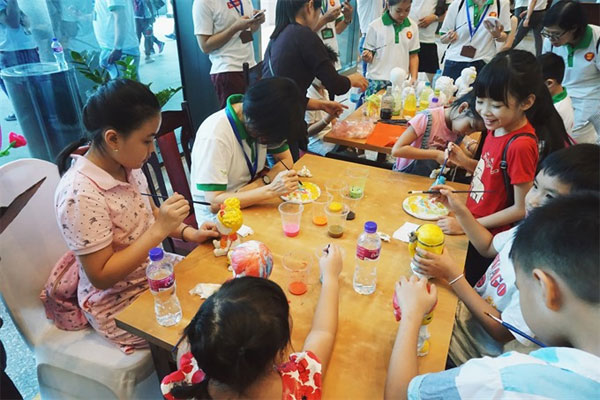 Colourful strokes: Lao children enjoy painting at the event.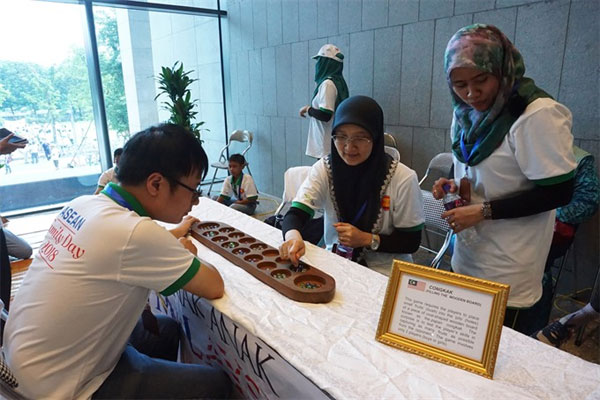 Learning with friends: Malaysian Embassy staff show a festival goer how to play their congkak (filling the wooden board) game.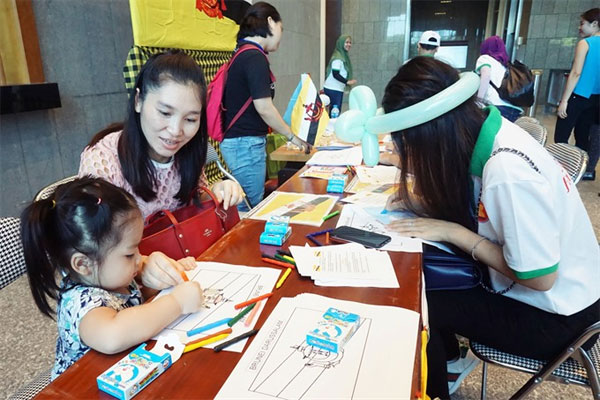 Wave it high: Lao mother and daughter (left) learn about the meaning of Brunei's national flag.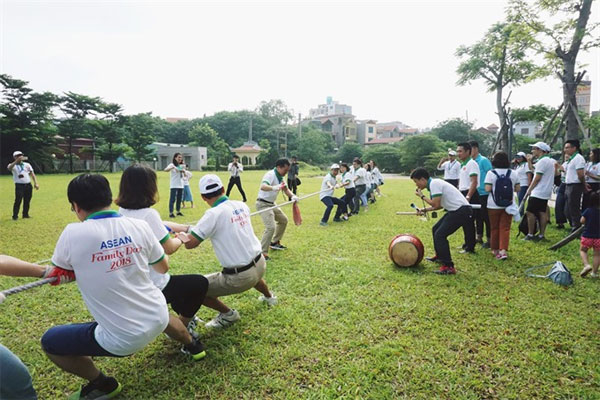 Friendly competition: Staff of the Viet Nam Ministry of Foreign Affairs and ASEAN Embassies' staff play tug of war.
Source: VNS