Located right at the foot of Cua Dai Bridge in Hoi An city, Quang Nam province, Vo Tan Tan's bamboo shop 'Taboo Bamboo' attracts tourists to visit and shop with unique bamboo products. 
With the available materials, he not only creates innovative products that are environmentally friendly, but also contributes to awakening a craft village that seemed to have been lost.
Awakening a craft village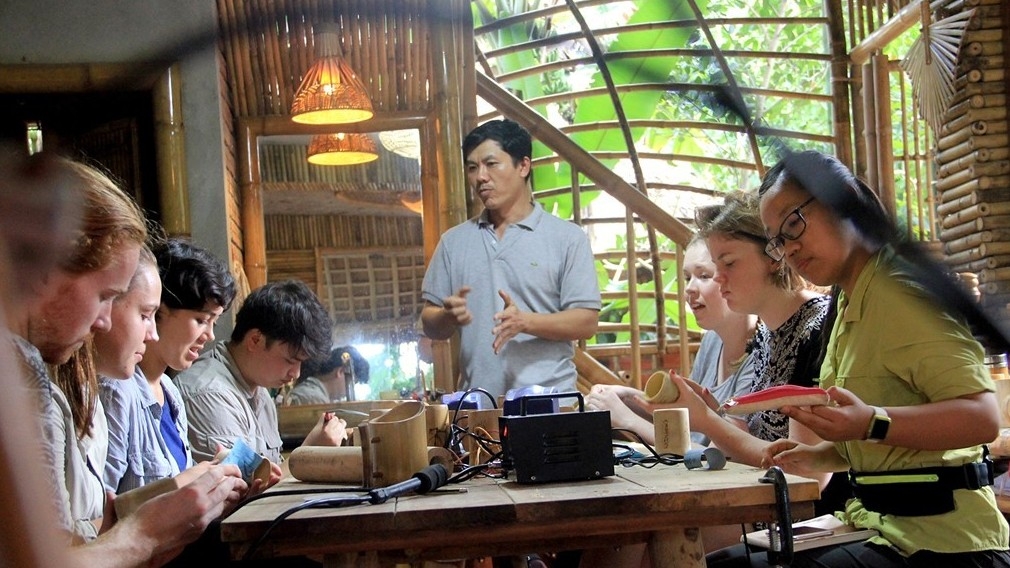 Vo Tan Tan (M) giving directions to visitors (Photo:zing.vn) 
Cam Thanh was one of the typical villages of Hoi An city, Quang Nam province, with products made from bamboo and coconut. Nestled under the green coconut forest in Bay Mau, Cam Thanh village had a great time. However, the development of modern life almost made the village seem lost. Fortunately, there are Cam Thanh people who are still concerned with the preservation of their traditional handicraft village and produce unique handicrafts to meet the market demand.
Growing up in a traditional family of crafts people in Cam Thanh commune, from an early age, Vo Tan Tan made many things from bamboo and coconut. His father, Vo Tan Muoi, was a famous artist in Hoi An. As a result, Vo Tan Tan soon inherited skills on making products from bamboo and coconut. With his passion for creating handicrafts, he has launched many artistic products from the familiar tree of Vietnam. Taboo Bamboo shop of Tan's family is located under a green bamboo canopy, known as not only a shop that produces souvenirs, handicrafts and household goods from bamboo, but also an attractive destination for visitors.
Taboo Bamboo has many interesting handmade products from bamboo, from snails; penguins; dragonflies; and puppets to household items such as tables; chairs; telephones; cups; straws; chopsticks; and bowls. Vo Tan Tan Tan shared that 20 years ago, in his village, almost all houses were made from bamboo, with coconut leaf roofs.
Gradually, along with social development, traditional products lost their position. Young people do not care about the traditional craft, while older people are still doing familiar things, without changing the design, and, as a result, the products do not meet the demand of the market.
With his love for bamboo, Tan explores the characteristics of bamboo, gradually overcoming the disadvantages of the bamboo product, especially the monotony of design. He has created new products that are highly applicable in modern life, enough to compete with other handicrafts. Up to now, most of the items produced by his family are made from bamboo, not only impressive but also providing a cool and user-friendly living space.
Every day, his Taboo Bamboo shop serves a wide range of visitors to experience the steps of making their favourite bamboo and coconut products. According to Luu Thanh Thao, a tourist from Hanoi who visiting Hoi An and making her own bamboo cup, when she first came to Tan's bamboo workshop, she was surprised at the diverse bamboo products such as ceiling fans, decorative lights or mobile phone cases that bring a new and friendly feel.
Giving strength to bamboo
In addition to producing handicraft products, Vo Tan Tan is also known as the "father" of bamboo bicycles and unique bamboo electric cars. After years of cherishing and researching the project, he launched the bike made from the bamboo material branded Taboo, which is a popular product with many domestic and foreign tourists. Along with international visitors, the bamboo bikes have arrived in certain European countries.
Most recently, he successfully created a car made from bamboo. The product is environmentally friendly while creating the hallmark of Hoi An and Tan's traditional handicraft village. It is also a creative product, affirming the special love of Tan for bamboo.
Inspired by bamboo, some art performances in Hoi An and Hanoi coordinated with Vo Tan Tan to bring the bamboo and bamboo products to the stage. In the circus play A O show in Hoi An, one of the unique features is that all the properties are made mainly from bamboo. The familiar objects such as nong (broad flat drying basket), nia (large and flat basket), baskets, cribble, and bamboo flame were taken on stage, creating unique artistic effects to conquer the viewer. Besides, Tan also received many invitations from owners of restaurants, cafes, resorts and hotels to put bamboo into the interior and exterior design, as well as decorative products.
The bamboo house with coconut roofs have reappeared next to the modern house. In the heart of Hoi An ancient city, the softness of the products made from bamboo and water coconut has contributed to preserving the image of a simple, rustic, and antique Hoi An. His bamboo straws have replaced the disposable plastic straws. The bamboo straws became popular product, especially in a campaign on reducing plastic waste in Hoi An .
With the love for bamboo and the traditional craft, the people of Hoi An and Vo Tan Tan are gradually creating products that are friendly with nature and environment, meanwhile through tourism they create a space with the Vietnamese cultural identity. Bamboo, coconut water, and ethnic elements are gradually restored to modern life, creating a green living space in a peaceful, hospitable Hoi An.
Nhan Dan